If you love the modern farmhouse style and still want a cute little home on wheels, then this model is sure to be a hit. From the two-toned siding to the French doors on one end, it's a modern marvel. A covered porch is just one of the many features that will have you happy to spend your life in this minimalist home on wheels.
Open the French doors and enter the cozy living space. Just inside those doors is a small area that could house your sofa, chairs, and television. It could also be used for a home office, dining room, or even additional sleep space if wanted.
Through the living area, you will find the kitchen. On one side is a large farmhouse style sink between butcher block style counters.
At the end of the counter is a full pantry space that is ideal for food storage but doesn't worry, the tall ceilings in this unit give you plenty of room for keeping all of your favorite home decor or small appliances within reach.
A closer look at this side of the kitchen shows you how the space was used for two extra special luxuries. On the side near the pantry space, you will notice an under cabinet laundry system. This is especially nice for those who plan to make this their permanent home or use for extended vacations.
On the other side of the sink is what appeals to many. An under-counter wine refrigerator is a huge bonus to this space. If you are a wine drinker, then this is a fun addition you wouldn't normally expect in a tiny home. It could also be used for any number of drinks or snacks to be refrigerated.
You'll notice the large open space before the kitchen. Windows on both sides give you tons of sunlight, but don't miss those windows across the top of the home. These really provide you with extra light during the day.
Opposite the sink you will find additional cabinets and a built in stove top with 4 burners. Above this is a mounted microwave, but could easily be swapped for a convection oven if desired.
The Helm—2-Story Container Home close to Magnolia Market
A traditional sized refrigerator at the end makes the kitchen complete and allows you to store all of the supplies needed to make a simple breakfast or a gourmet meal for the family.
Throughout this tiny home, you will notice several additional outlets for charging electronics, hooking up lamps, or adding a coffee pot or slow cooker as needed.
Perhaps the most commonly requested item in a tiny house has to do with the bathroom. In this unit, the bathroom is at the end of the home just before the gooseneck portion where the bedroom is housed.
In the center of the bathroom, is a simple set of stairs leading to the bedroom. This division of space keeps the shower on one side and the toilet on the other.
For this model, there is a 100-gallon freshwater tank and a 100-gallon waste water tank. These provide you with ample water and storage if you are not where water hookups are available. As many tiny home and RV locations don't allow full hookups, this is a great way to keep your unit going even when "off grid".
The toilet is a composting toilet, but could easily be plumbed for traditional if preferred. There is a simple fold down tray above the toilet that can be pulled up for storage when needed.
Facing the toilet is the sink with an additional storage shelf just below. I love this dark black sink and how it is a modern style among the other basic looks of the home.
The flat mirror along the wall is simple but you could remove and add a traditional medicine cabinet there if you wish. If not, there is room above, below, and beside the sink to add things like makeup, extra toiletries, and similar items.
The other side of the bathroom holds an amazing corner shower unit! This unit has a rounded door and my favorite, the rainwater showerhead. With built-in shelves this is ideal for those who need space for hair care or body wash products.
Notice the pocket door between the kitchen and bathroom. This gives you privacy without wasted space! One of my favorite features to see in tiny homes are pocket doors for this very reason.
Up the stairs between the toilet and shower you will find the bedroom. This space includes a built-in bed and headboard! Add your own mattress and use the base underneath for storage. What a perfect place to hold out of season clothing or extra supplies!
Tables on each side of the room give you plenty of space for additional lamps, more storage, or just a glass of water and book at bedtime. The walls are empty now but could be decorated as you prefer or simple shelves added here and there for extra storage.
Don't worry – this space also has privacy! There is a great little barn door to slide into place when you want to block out the rest of the home. Plus, you have a bonus storage space in the corner! Perfect for tucking in clothing, extra linens, or any number of necessities.
When shopping for a new tiny home, you don't have to sacrifice any of the comforts of a traditional home. This simple unit shows you just how nice you can have things when you shop around for the right home for your needs.
in an infinite green oasis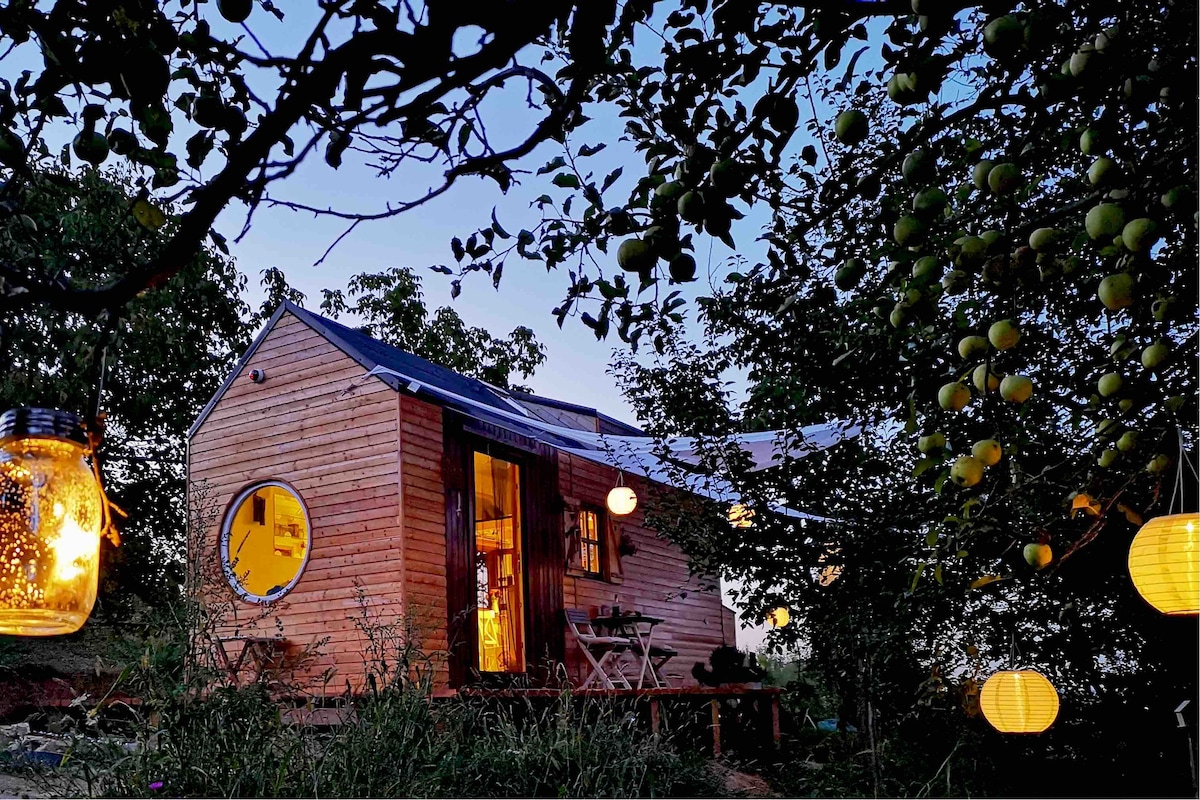 Tiny House on wheels
This is not just another bed you rest in overnight. It is a dazzling experience! Superhost Gabriella will amaze you with her cozy tiny house.
Entire house hosted by Robin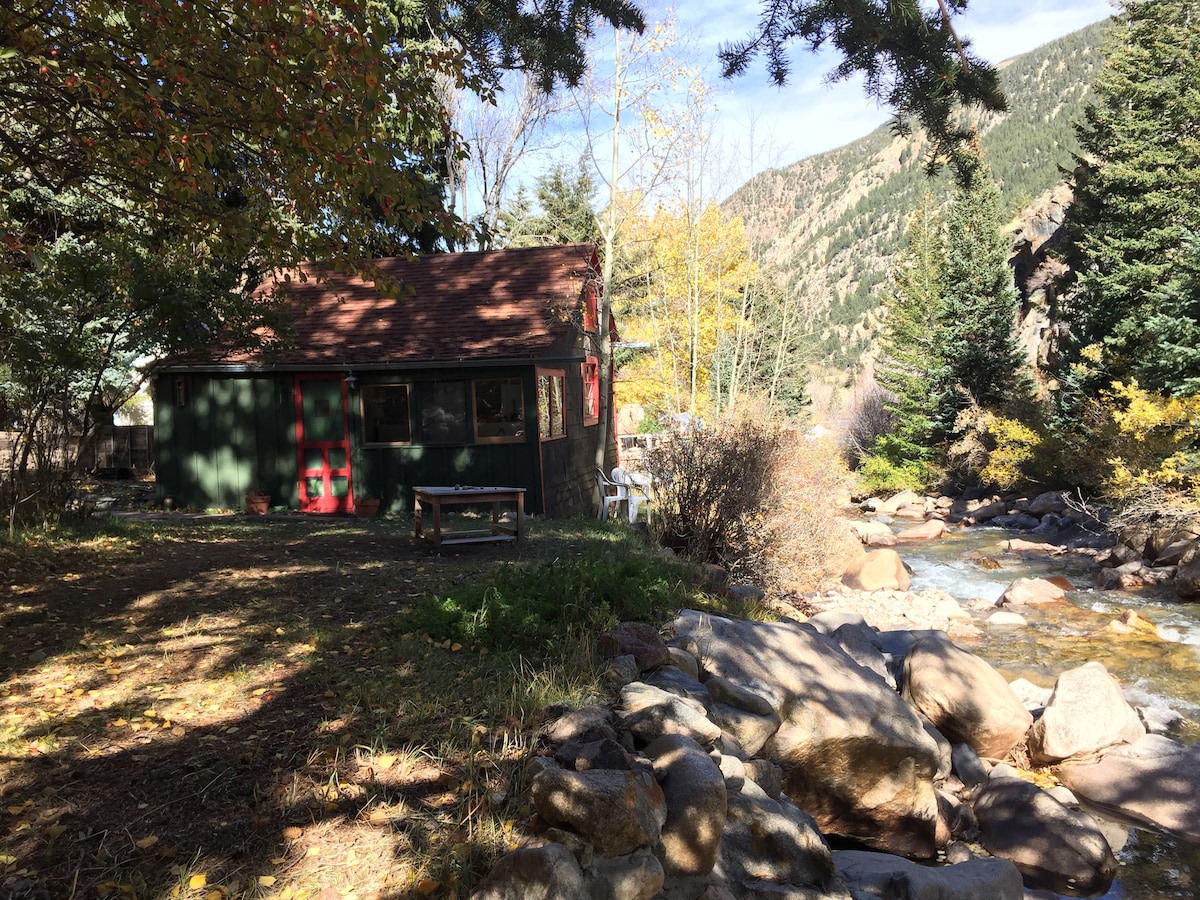 The Cricket- An amazing Tiny House!
The Cricket is a rustic historic cabin in a small neighborhood on Spring Street along side the rushing Clear Creek and nestled among an Aspen grove.
Tiny house hosted by Caroline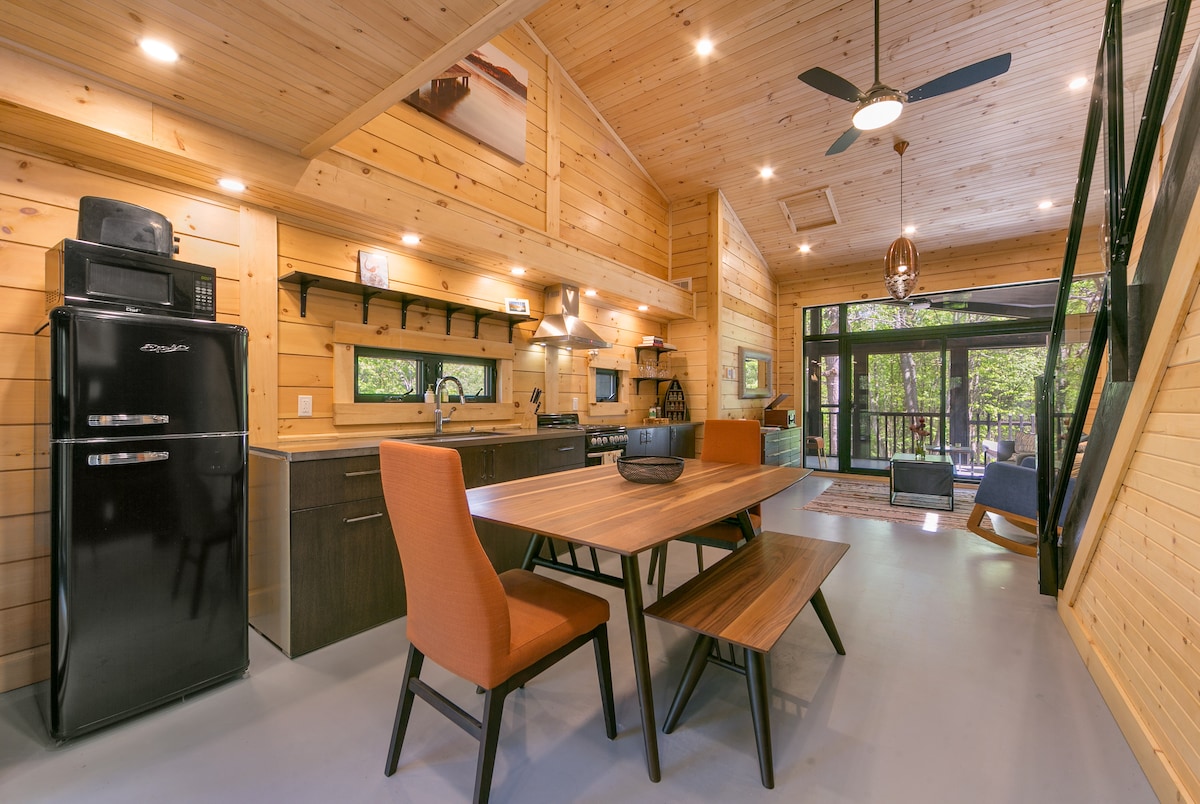 Muskoka's Luxury Tiny House
Serenely situated between Gravenhurst and Bracebridge, Tiny Haus has been custom built by an award winning architect to capture the beauty of the natural surroundings.
From the deluxe porch and French doors to the built-in base to your bed, this home has little luxuries throughout that add class and beauty to an otherwise ordinary home on wheels.
If you are curious about making this model your own, check out the full listing in Tiny House Marketplace. Make sure you let them know that iTinyHouses.com sent you.
Interested in more tiny house plans? Check out more great tiny homes below!