We've all seen people buying these pre-fabricated sheds with plans to turn them into a home, but have you seen the end result? This eclectic shed conversion turns what was intended for storage into a lovely cabin styled home.
I always thought that the tiny shed homes were a cute idea, but couldn't see how it could work. I just felt like it would fell too small and cramped. This great updated shed proved me wrong!
The owners of this home designed the space with clean lines and classic pieces. Keeping with themes, they mixed and matched grey and blue in various shades alongside the white walls and wood trim.
Along one wall a sofa lines the space with chair and ottoman acting as a coffee table of sorts. Both sides have weathered end tables with lamps for added light and storage.
You'll note the ladder against one wall is placed for easy access to a small loft space. This could be used for storage, an extra sleep space, or adding decor if desired. Behind that wall is the bathroom space for convenience.
When you step into the bedroom, you will see how the wall in the living area that houses the bathroom also helps divide the bedroom from the rest of the space.
The Helm—2-Story Container Home close to Magnolia Market
This is ideal for hanging a few favorite pictures or portraits, or even adding a small dresser or chest of drawers for storage.
While the bedroom doesn't have complete walls to the ceiling, it does have pocket doors to give privacy. You could add additional wall and enclose this space if desired.
A wardrobe with mirror sits next to the window taking the place of a built in closet for storage.
The space houses a full sized bed, but you could easily fit a larger bed or bunk beds in the corner if desired. I love how they added an animal rug to match the farmhouse style, but you could put any rug here to connect your decor and theme.
This bedroom only has one window, but you could request additional windows or even alternate locations to add more natural light in the space. Of course, end tables and lamps are great, but sometimes you just want that natural light in your home instead.
Behind the door out of the bedroom you'll find a full traditional bathroom complete with bathtub and shower. While not a fancy space, it is functional and ideal for everyday use. You could add your own choice of shower or bathtub if preferred.
One thing I love is that this tiny home showcases full-sized items. You have a traditional toilet, traditional full sized bathtub, and a vanity that is traditional for a home. That means you don't have to fit with compost toilets, finding smaller options to fit in the space, or feeling claustrophobic.
Back in the living space you see there is a corner nook for a small table and chairs. This is great for small families, but also large enough to entertain a few guests if needed.
You can barely see the corner of the refrigerator, but this space is also where you will find the kitchen. This home is outfitted with a full kitchen for comfort, but you can easily customize the space with your own choice of appliances.
One of the features you see on the outside is the small porch and awning. Despite this being such a small space, it's ideal for keeping you dry when it is raining, or enjoying a cup of coffee as you watch the sunrise.
in an infinite green oasis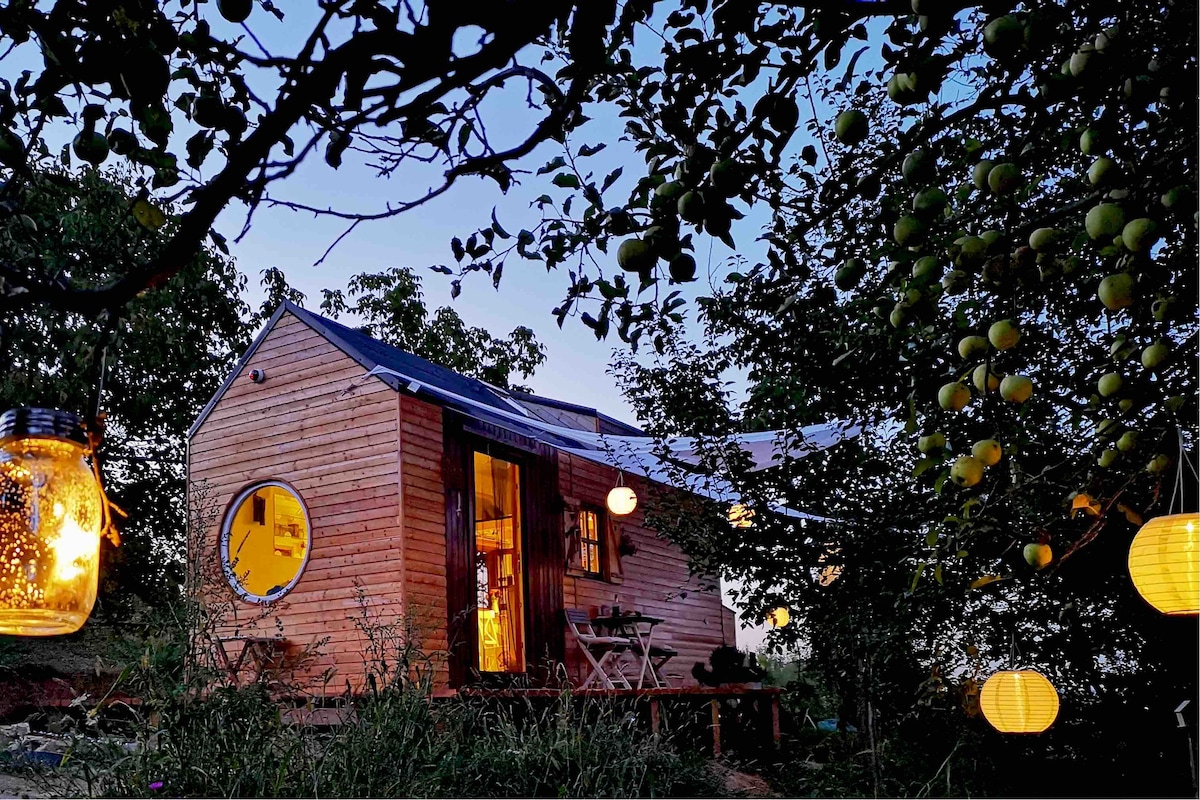 Tiny House on wheels
This is not just another bed you rest in overnight. It is a dazzling experience! Superhost Gabriella will amaze you with her cozy tiny house.
Entire house hosted by Robin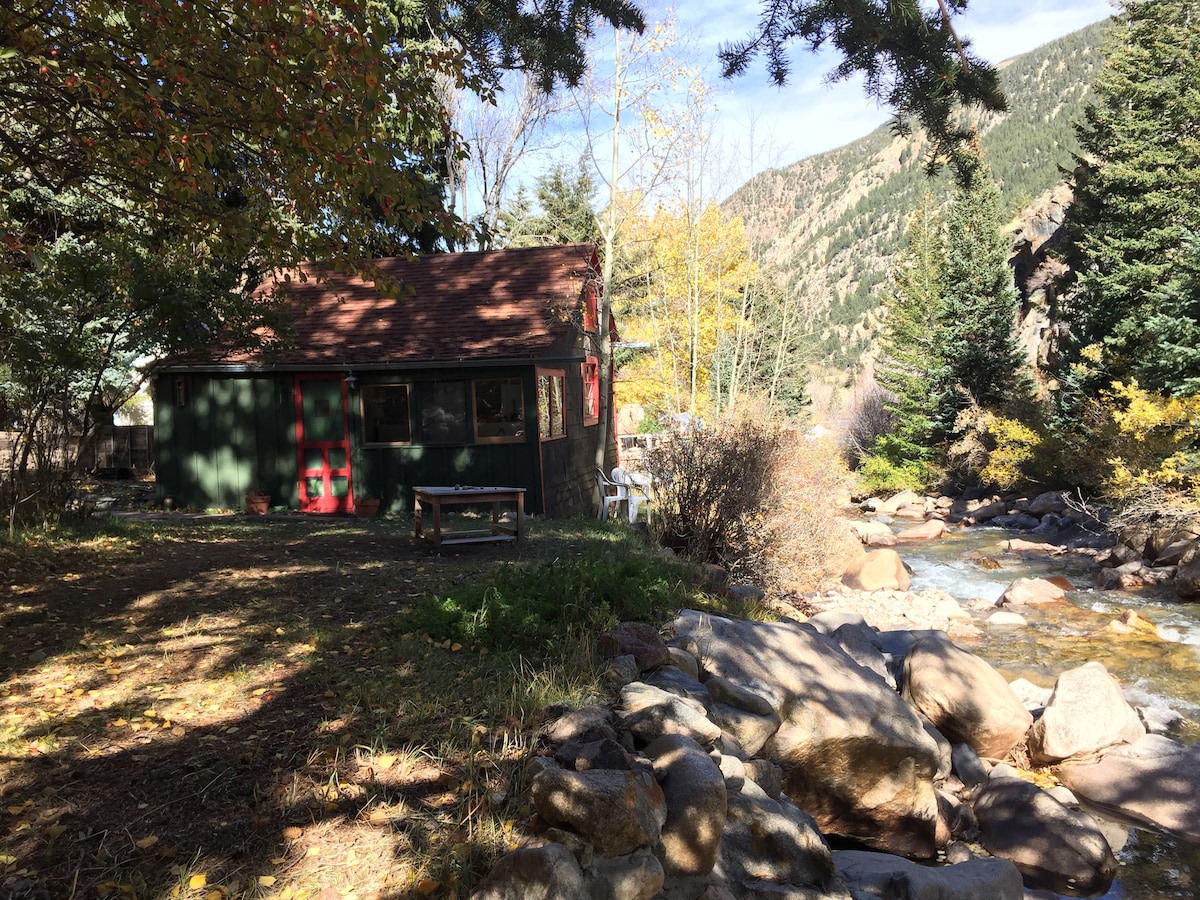 The Cricket- An amazing Tiny House!
The Cricket is a rustic historic cabin in a small neighborhood on Spring Street along side the rushing Clear Creek and nestled among an Aspen grove.
Tiny house hosted by Caroline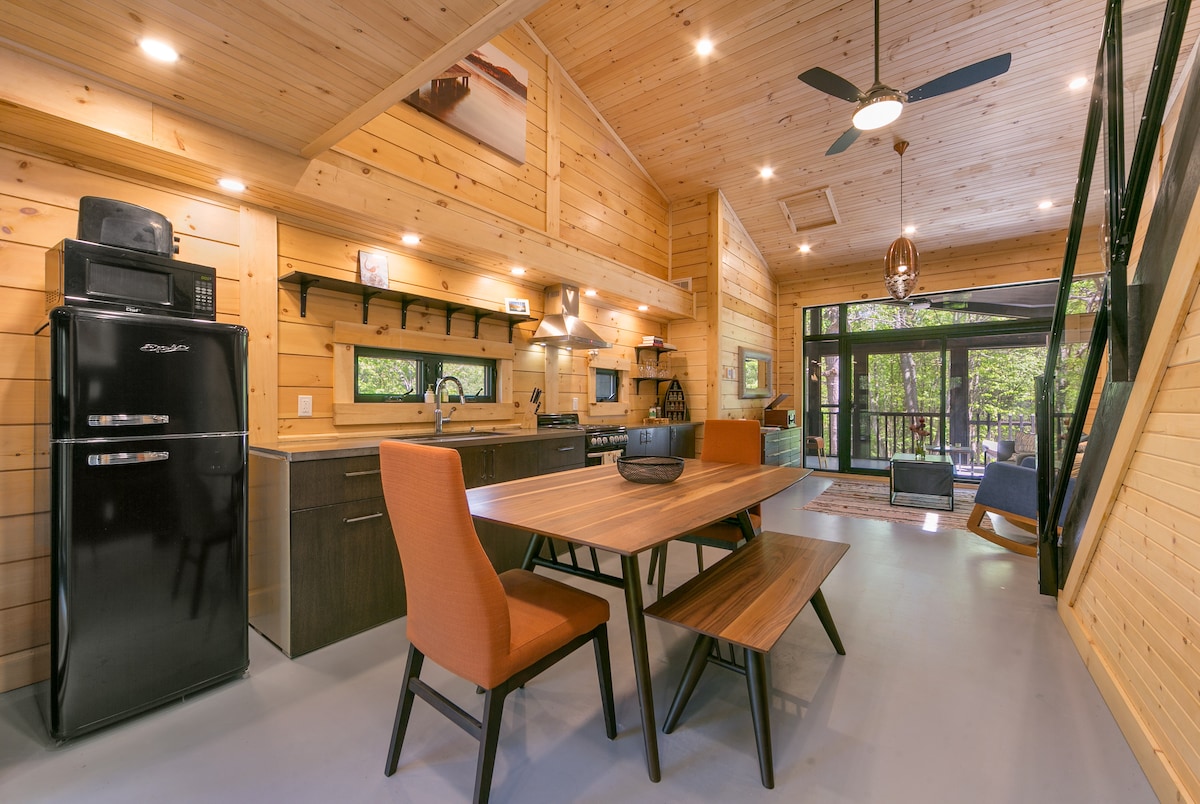 Muskoka's Luxury Tiny House
Serenely situated between Gravenhurst and Bracebridge, Tiny Haus has been custom built by an award winning architect to capture the beauty of the natural surroundings.
Add your choice of chairs, or even use this space for a small herb garden or a flower pot to add a bit of decor to the space.
Learn more about making a shed your new home via their posting in the Tiny House Marketplace. Make sure you let them know that iTinyHouses.com sent you!
Interested in more tiny house plans? Check out more great tiny homes below!