The name says it all! The Home of Zen is a beautiful tiny home designed to bring you peace, comfort, and relaxation. From the stunning rooftop escape to the windows all along the top of the lofted space, this home is ideal for turning into your oasis away from the world.
Tiny Heirloom never fails to impress. Unique layouts and styles are their specialty. Whether you want traditional, or this low-key comfort space, you will find just what you are looking for in their profile.
The interior of the Home of Zen is a combination of simple white walls and gorgeous wood accents. With modern tile accents, stainless steel appliances, and unique fixtures, it's an ideal oasis with beauty everywhere.
The main space in the home is an open living area, kitchen combination. While not a large space, this kitchen does include the oven, cook top, refrigerator, counter space, and deep sink. There is also a hidden table!
One of my favorite additions in this space is that the stairs leading to the main sleep loft double as storage. This isn't unusual for a tiny home, but it is unique in this space with the fun hidden items.
Tucked under the stairs you see not only the apartment sized refrigerator, but a little slide out table top and two box seats! This unit slides back into place when not in use saving space, but also gives you the option when needed.
Some smaller homes don't have a full kitchen, but that is a must for most who want the full tiny lifestyle. The Home of Zen has a small oven built under the counter and a simple 2-burner cook top. While small, this is more than enough for daily cooking.
The Helm—2-Story Container Home close to Magnolia Market
The sliding drawers and cabinets are amazing for being sleek and quiet, plus they look nice and deep for tons of storage!
In my opinion, if you want true zen, a nice view outside is a must. Park your tiny home where you find peaceful and enjoy this large open French door space!
Not only is it nice to walk inside your home, but the larger space makes an open door during the day a great way to add beauty to your space.
Above the kitchen is what I like to call the main loft space. This home has very small lofts, so definitely not the luxury space you may like. It is, however, just fine for a single individual or couple who prefers more room in their living space and just enough room for a bed.
While hard to see from this angle, just below the ladder up to this loft is a small closet with the washer and dryer unit just below. Open and easy to access, this can be blocked off with a curtain if you prefer.
On the opposite end of the house is the larger loft space. This has room for a full sized bed and includes a little shelf and extra space for books, a charging station, and candle. It's not a huge area, but it is cozy and comfortable.
You've already seen the kitchen, but now you can also take in the rest of the living area. This home has the bathroom on the opposite side of the house from the kitchen with a tiny loft above.
There is also a small space between where they have placed a sofa, but you could leave this open or just add a few chairs into the space if wanted.
The bathroom is a small space but has everything you need. I am in love with this little small sink space! So cute but plenty of room for your needs. The round mirror is also a medicine cabinet for storage.
You can easily add additional storage shelves if you want to store more items in the space.
This unit shows a composting toilet but depending upon where you will be living or parked, you can swap that for traditional plumbing if you prefer.
One of the best parts of this space is this tile lined shower. I love when builders go the extra mile to make the little things feel extravagant.
in an infinite green oasis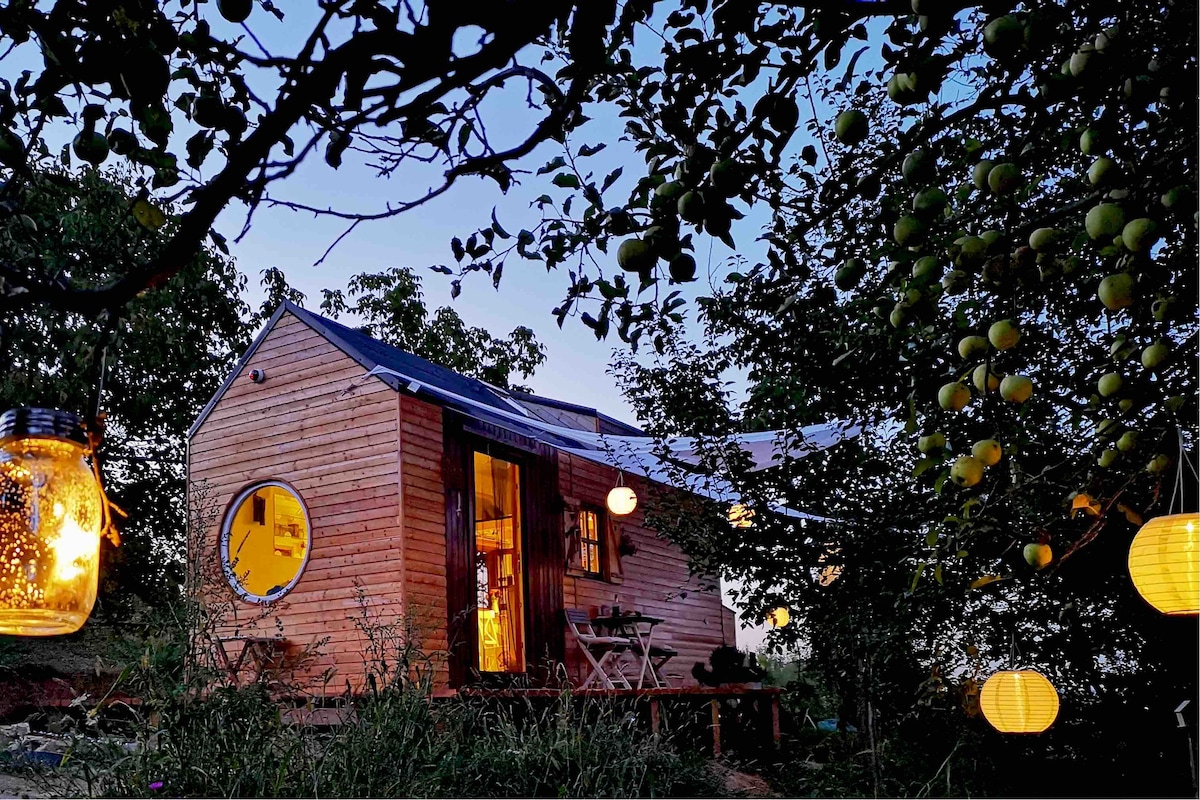 Tiny House on wheels
This is not just another bed you rest in overnight. It is a dazzling experience! Superhost Gabriella will amaze you with her cozy tiny house.
Entire house hosted by Robin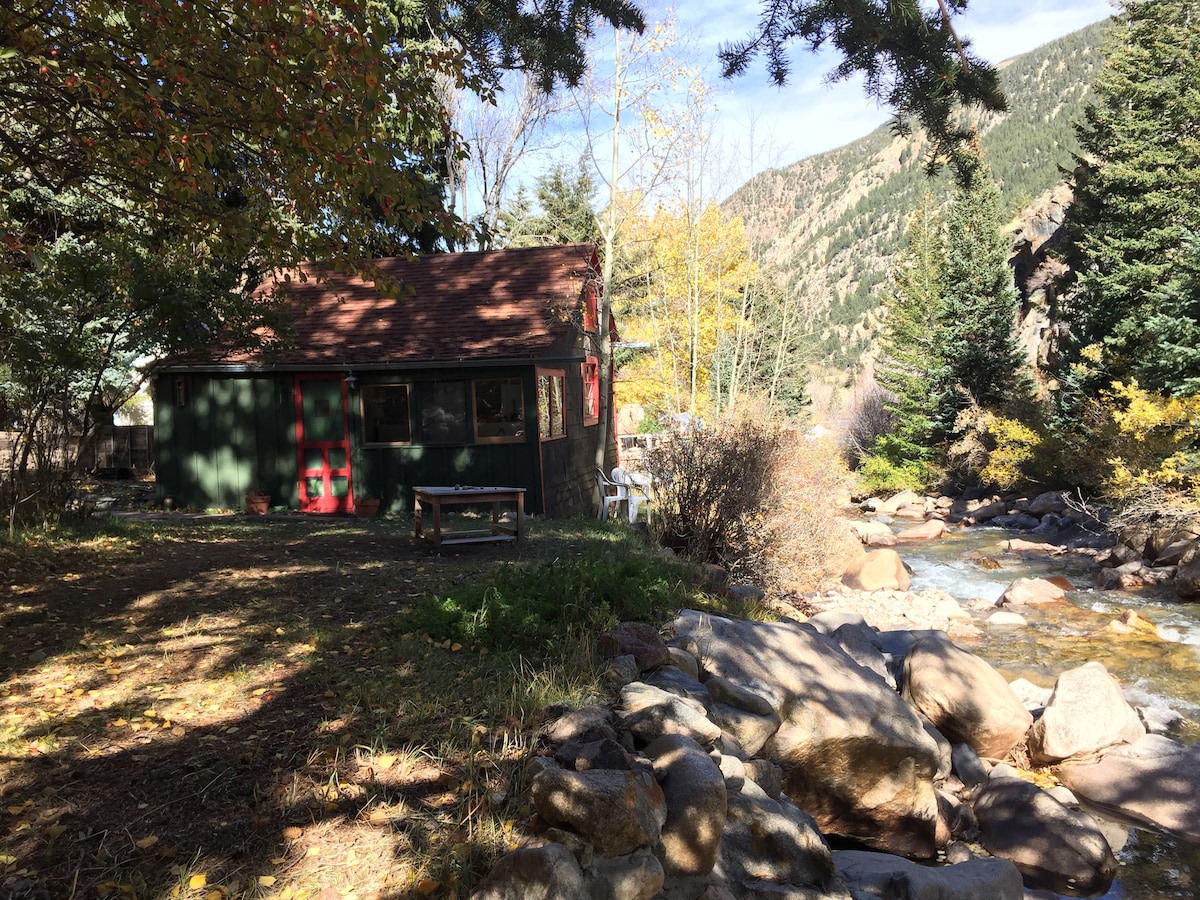 The Cricket- An amazing Tiny House!
The Cricket is a rustic historic cabin in a small neighborhood on Spring Street along side the rushing Clear Creek and nestled among an Aspen grove.
Tiny house hosted by Caroline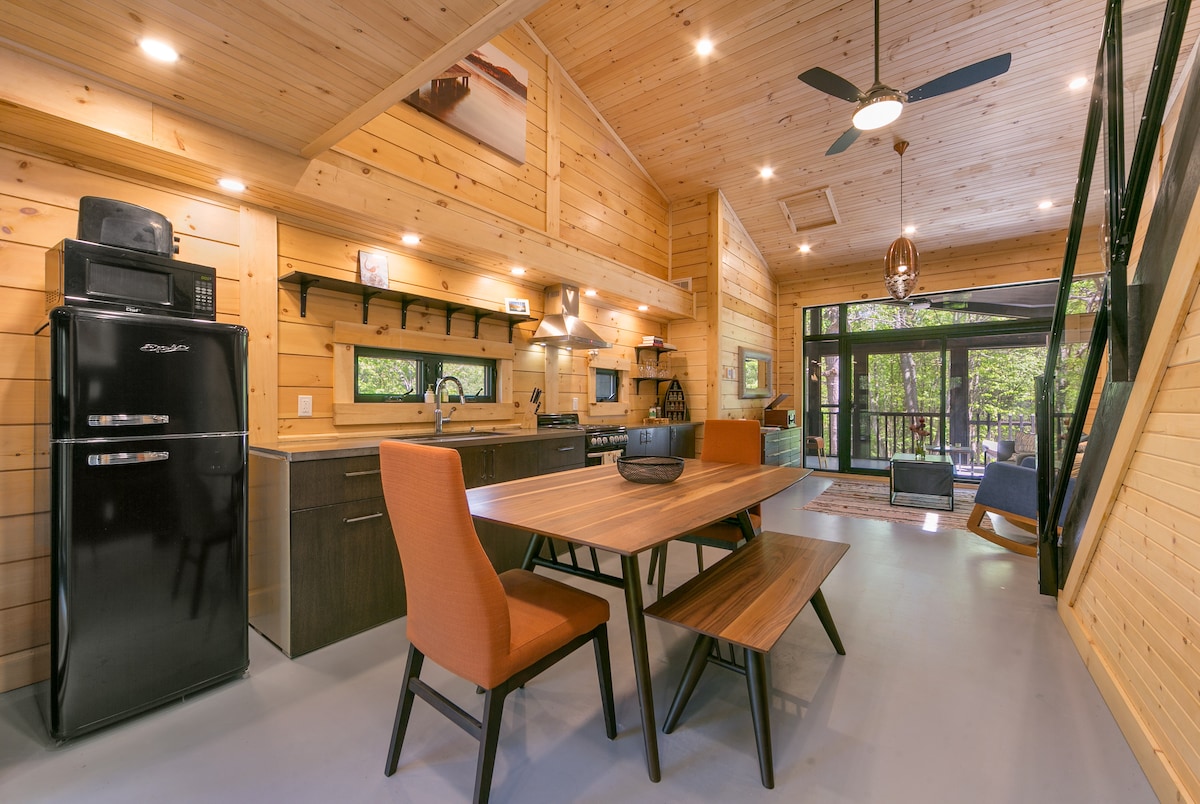 Muskoka's Luxury Tiny House
Serenely situated between Gravenhurst and Bracebridge, Tiny Haus has been custom built by an award winning architect to capture the beauty of the natural surroundings.
The Home of Zen can be your own oasis and place of rest and mediation. With two loft sleeping areas, a full kitchen, substantial bathroom, and a rooftop deck, this is an ideal tiny home for anyone embracing a minimalist lifestyle.
To learn more about making the Home of Zen your own oasis, check out this listing and more from Tiny Heirloom. Make sure you let them know that iTinyHouses.com sent you!
Interested in more tiny house plans? Check out more great tiny homes below!