You will love the beauty of this hand crafted tiny home. Dubbed the "Casa de Lux" by the owners, it is a luxury home in small spaces. Staying true to the small footprint you desire, it includes all of those little amenities you dream of having with a burst of color thrown in everywhere to bring the look together.
Teal, red, and blue is the colors featured in this little house on wheels. Whether you park in a tiny house community, place on your own property, or take it on the road, this is sure to please.
The real beauty is when you walk inside. The builder and owner has added tons of little touches to this home that are personalized but also perfect for anyone to step right in and enjoy. Custom woodwork, tiled backsplashes, brightly colored appliances and more make it a unique place to spend your days and nights.
A small living space has more than enough room to house a sofa and two fun chairs like these red ones that look almost like barstools. A wooden table on one side is a great workstation or table for mealtimes. On the opposite side, custom wood ladder up to the loft also houses storage and pantry space.
Of course, there are unique accents like the stained glass look of the wall between the sleep are and living area. A small but totally original barn door style bathroom door offers both beauty and privacy.
The Helm—2-Story Container Home close to Magnolia Market
Windows on all sides and wall mounted lights provide both natural and added light wherever you need it both day and night. This, along with the white walls make the space feel open and bigger than it actually is.
I absolutely adore how they brought color in things like a few backsplash tiles and their appliances. This refrigerator matches the red of the chairs, the bathroom door, and the stain glass partition upstairs.
Teal tiles don't cover the entire area, but could easily be updated with more or similar tiles to cover the whole wall if wanted. These little touches of color are what bring the house together and make it a true home.
Add to that sturdy cabinets both above and below the countertop and you have tons of space for food, cookware, and supplies.
The small built in two burner stove is great for regular meals. While not large enough to cook a large gourmet meal, you can easily prepare your favorite recipes.
Above the refrigerator, you may have noticed the shelf with a microwave. This space and other countertop areas are ideal for housing additional appliances like an Instant Pot, slow cooker, air fryer, and of course, the always needed coffee pot.
The opposite side of the kitchen has a deep kitchen sink with matching teal tiles. Added above and below are more cabinets for storage. The simple grey color matches the accent colors beautifully and since there is some open space left on the walls, you could easily add more if desired.
Every tiny house buyer is looking for an all in one home, and in this space you also have a complete bathroom! While small, this shower, sink, and toilet are all you need for your day to day needs.
The color teal theme goes right into the bathroom to create a truly cohesive feeling in the home. I also love the large mirror with its accents and style. Such a cute piece to add to the bathroom!
in an infinite green oasis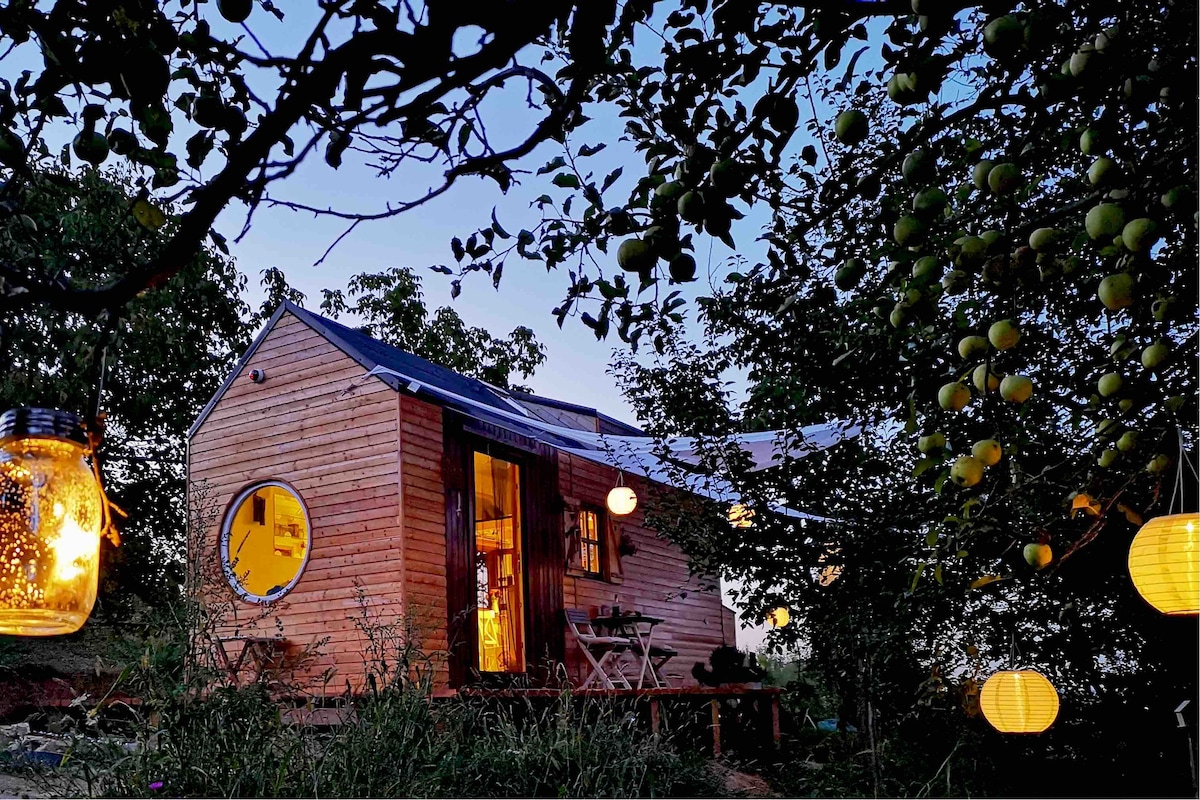 Tiny House on wheels
This is not just another bed you rest in overnight. It is a dazzling experience! Superhost Gabriella will amaze you with her cozy tiny house.
Entire house hosted by Robin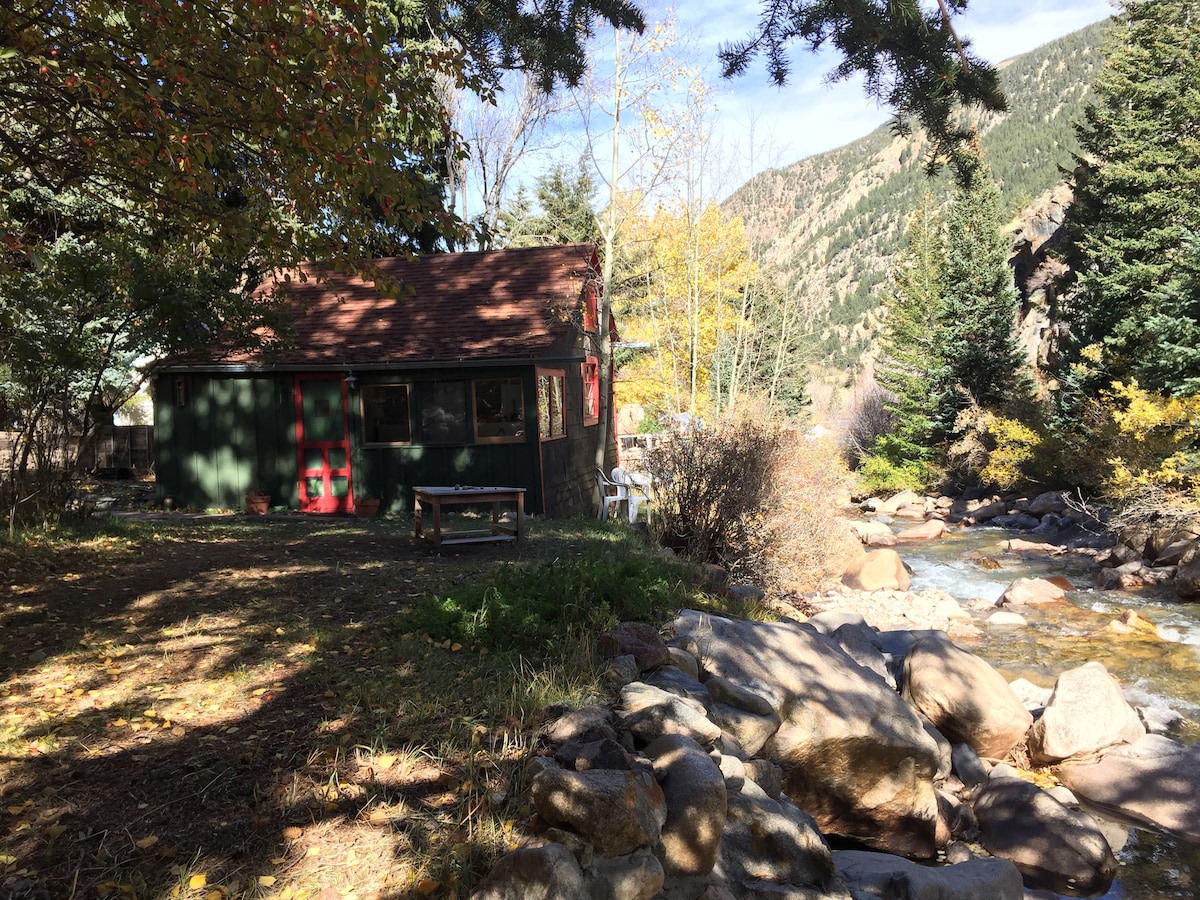 The Cricket- An amazing Tiny House!
The Cricket is a rustic historic cabin in a small neighborhood on Spring Street along side the rushing Clear Creek and nestled among an Aspen grove.
Tiny house hosted by Caroline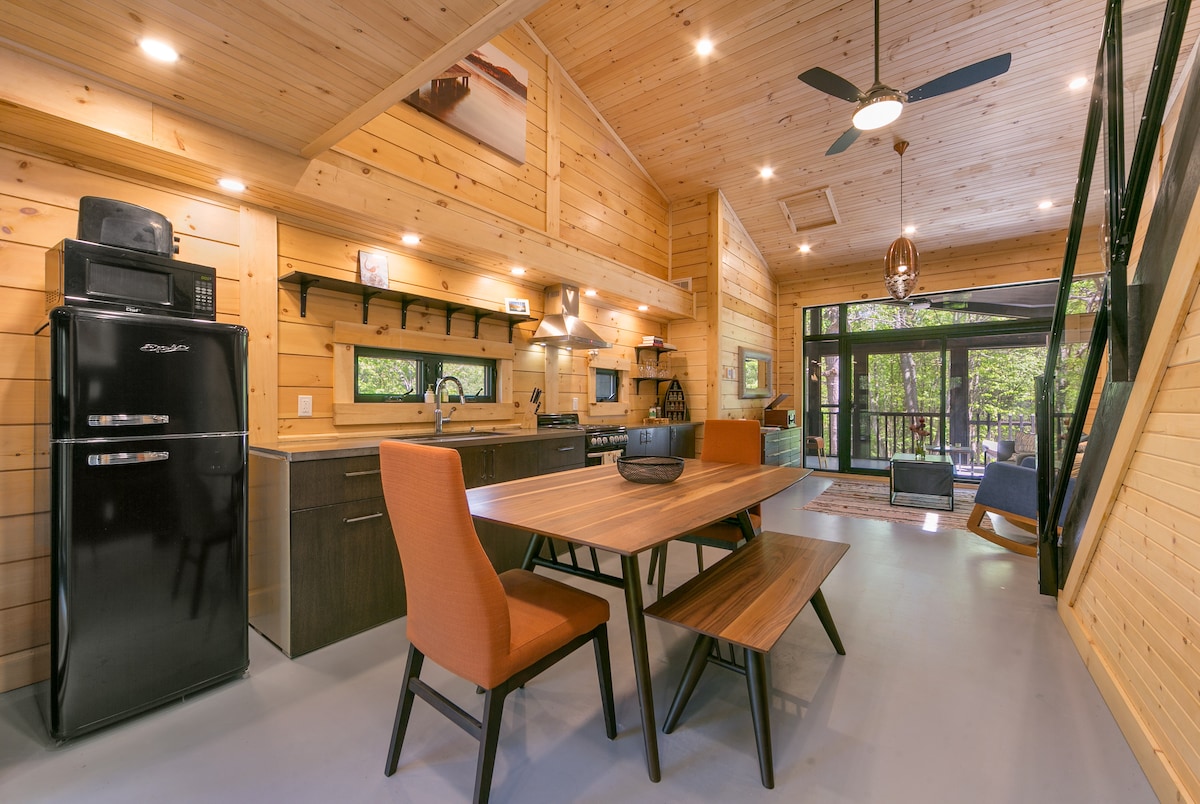 Muskoka's Luxury Tiny House
Serenely situated between Gravenhurst and Bracebridge, Tiny Haus has been custom built by an award winning architect to capture the beauty of the natural surroundings.
Interested in more tiny house plans? Check out more great tiny homes below!