Many people who get into tiny house living do so for a lifetime—but many others find that their lies move "in a different direction," as the seller of the 320' THOW called the "Ladybug" explains. There are only a few photographs of the Ladybug to share, but she sure looks like a beautiful tiny home for $75,000.

Right now, the tiny house is located in Sarasota. As such, it has been constructed to meet the requirements of Florida's rigorous housing codes. This means that it can stand up to harsh weather. There is a 15-year warranty on its asphalt shingle roof. The siding is entirely cedar. Each of the windows you see here comes with custom blinds.

The look of the home is modern, but with some traditional influences. This means that no matter where you park it, it should fit in great with the surrounding structures.
The Helm—2-Story Container Home close to Magnolia Market

The kitchen features one of those cool tile backsplashes which goes all the way up the wall to the ceiling, providing a decorative accent while also fulfilling a functional purpose. The sink has two basins, ideal for washing and drying your dishes. You can also see that there are plenty of cabinets above and below the marble Formica counters. To make food prep fast and easy, you have a stainless LG microwave as well as a 30' LG electric cooktop. On the right, there is a large fridge and freezer.

The main loft is stunning! It has a very modern ambiance, and is awash with sunlight, thanks to the two large windows on either side as well as the two skylights overhead. There are also overhead LED lights, which is so much better than a couple of little bedside lamps. And that bed looks super comfy!

In the bathroom, there is a flushing toilet and a farmhouse-style sink. The shower includes a full-size tub and has tile walls for easy cleaning. The washer and dryer unit is located in here as well.
in an infinite green oasis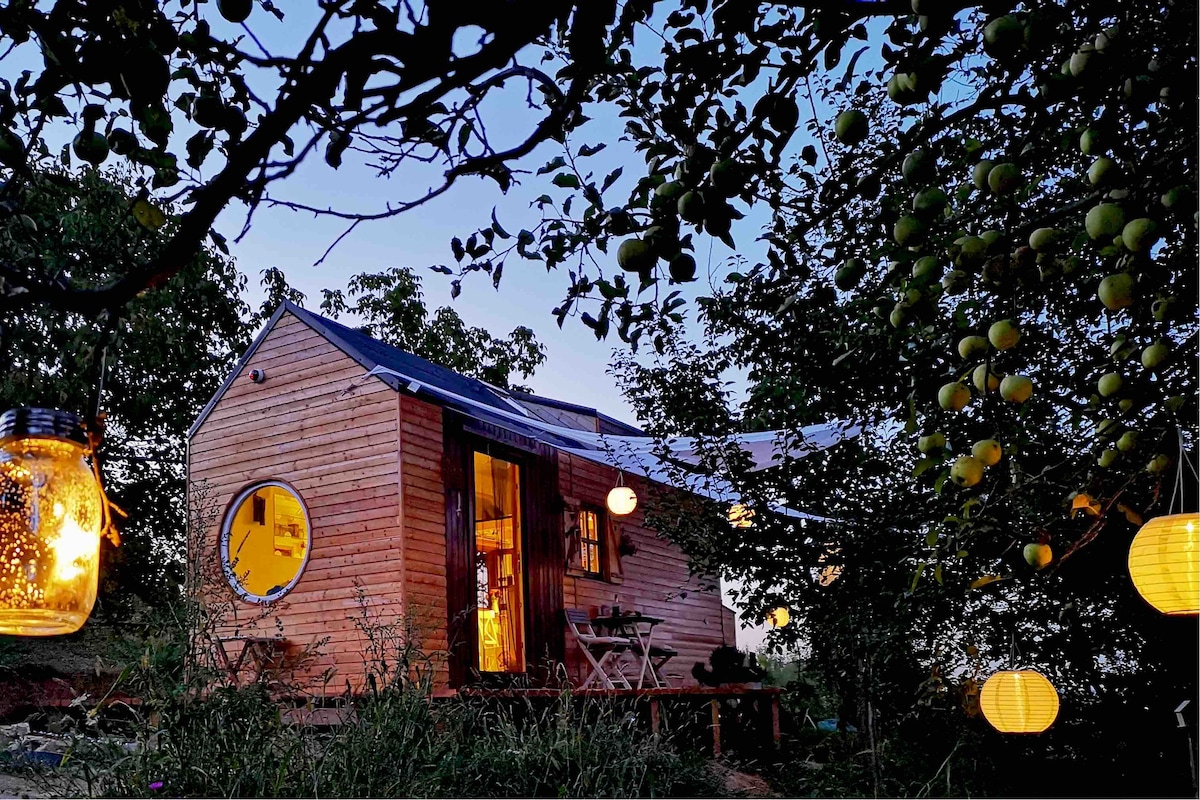 Tiny House on wheels
This is not just another bed you rest in overnight. It is a dazzling experience! Superhost Gabriella will amaze you with her cozy tiny house.
Entire house hosted by Robin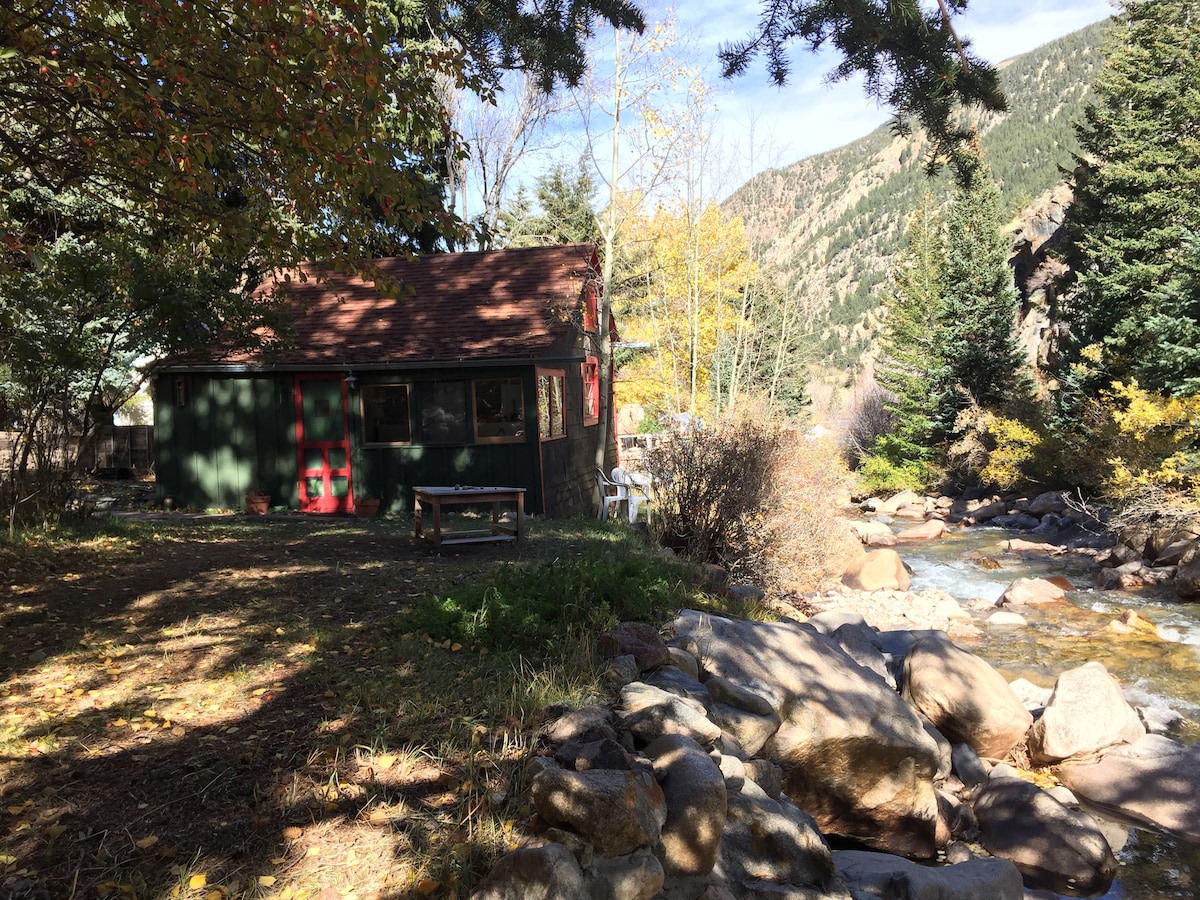 The Cricket- An amazing Tiny House!
The Cricket is a rustic historic cabin in a small neighborhood on Spring Street along side the rushing Clear Creek and nestled among an Aspen grove.
Tiny house hosted by Caroline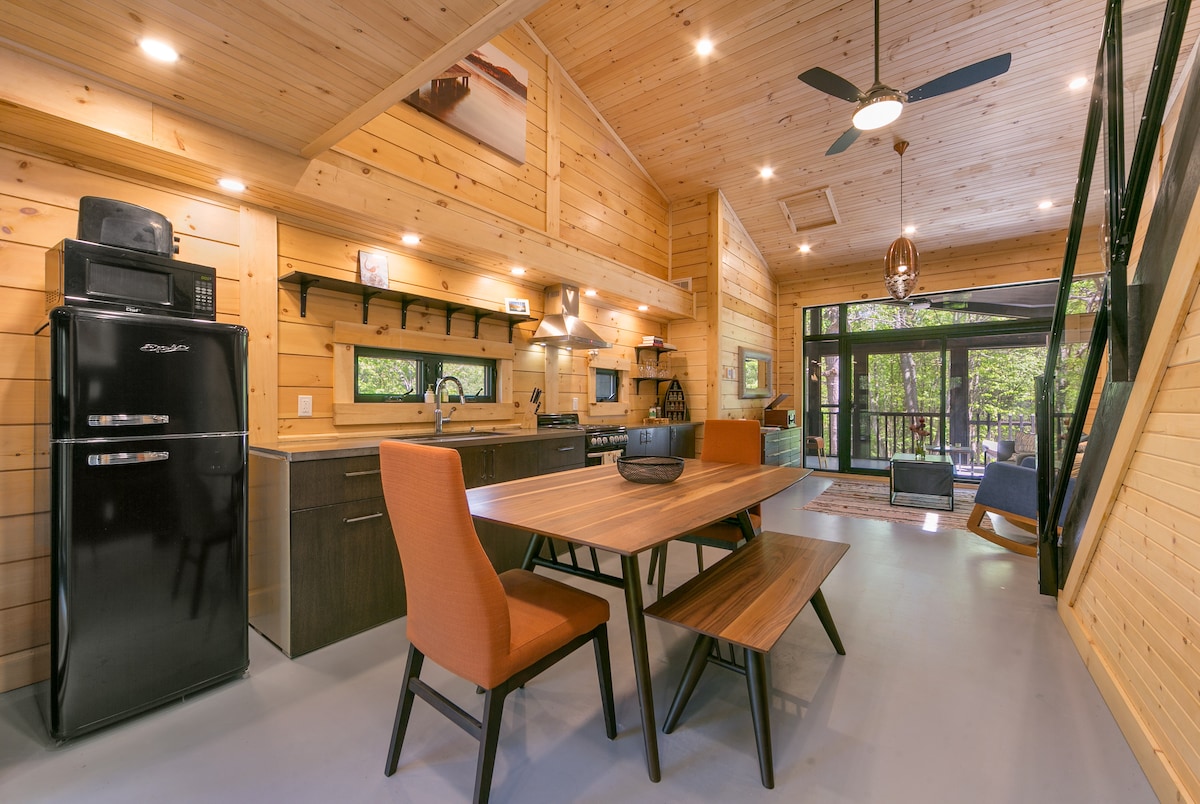 Muskoka's Luxury Tiny House
Serenely situated between Gravenhurst and Bracebridge, Tiny Haus has been custom built by an award winning architect to capture the beauty of the natural surroundings.

If you can imagine yourself walking up those steps and through that red door into your very own tiny house, you can drop by the listing for the Ladybug at the Tiny House Marketplace. While the current asking price is $75,000, the seller says that the price can be negotiated.