If you're looking for a tiny house that makes an instant statement wherever it goes, the Expedition for sale in Tipp City, OH could be your dream come true.

The house features a unique contemporary design, and measures 28' in length by 8.5' in length. The eye is of course instantly drawn to the door. It would actually be easy to miss if it were not surrounded by bright red trim. It would blend in well with the other rectangles which define the home's architecture. As it is, it stands out while also fitting in perfectly with the other elements at work.

The Jeld-Wen windows are all made of tempered glass. There are thirteen in total, offering views and airflow throughout the house.

The layout of the kitchen is logical and intuitive. Standing in one place, you can easily reach the sink on one side or the oven and stovetop on the other, with counter space right in front of you.
The farmhouse-style sink features two large basins, giving you plenty of room to wash the dishes. There is an impressive amount of room on the counter for food preparation as well.
The Helm—2-Story Container Home close to Magnolia Market

You can see that there is a clear division of space in this house. The kitchen is in its own small alcove, and there is also a solid wood barrier between the loft and the main living area, though it is not entirely enclosed as a separate room.

Okay, I thought this house was nice before, but now I think it's downright awesome. Not only is there a ton of vertical space in this home, but the main living area has been configured in a creative way.
I love how the custom furnishing on the right-hand side (I'm not even sure what to refer to it as) sections off some little alcoves. Meanwhile, it surrounds those alcoves with storage cabinets. The loft functions as a reading nook, and there is additional storage on top of the cabinets on the right-hand wall.
The overall effect gives the illusion of more "rooms" in the house than there really are, each with their own unique purpose. This is something I sometimes see in contemporary tiny apartments, but rarely in homes which incorporate a more "traditional" tiny house layout. This space is like a melding of the best of both worlds.

Here is a closer look at the sink with its twin basins and lovely backsplash.

Been wondering what the bedroom loft is like? Here it is, large enough to accommodate the king-size Tuft & Needle mattress which comes with the house. The other loft which you saw earlier can accommodate a full-size bed. You probably took note of the bookshelf as well, which was custom-designed for the home.

One of the nooks created by the cabinetry features a beautiful live-edge dining bar. Notice how the open-face cabinets provide storage space both inside the nooks and outside the nooks facing the main living space. This makes for an efficient use of space.
A closer look at the live-edge bar is certainly called for.

Not only is this house beautiful and cleverly designed, but it also features an array of great utilities. Closed cell spray foam insulation keeps the interior warm, and a NEST Smoke & CO2 detector keeps it safe. It also features a Mitsubishi AC/Heat Pump Mini Split Unit, an August Smart Lock System, and electrical, plumbing, and propane systems ready to go.
in an infinite green oasis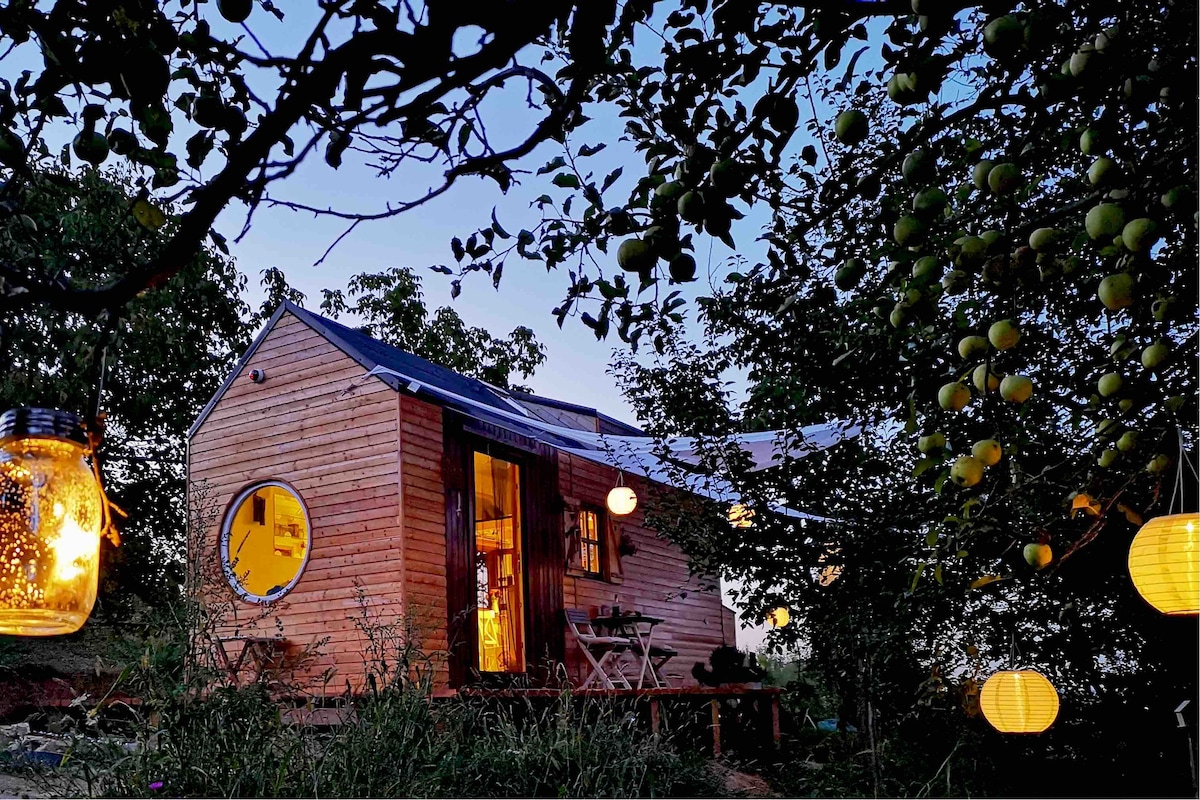 Tiny House on wheels
This is not just another bed you rest in overnight. It is a dazzling experience! Superhost Gabriella will amaze you with her cozy tiny house.
Entire house hosted by Robin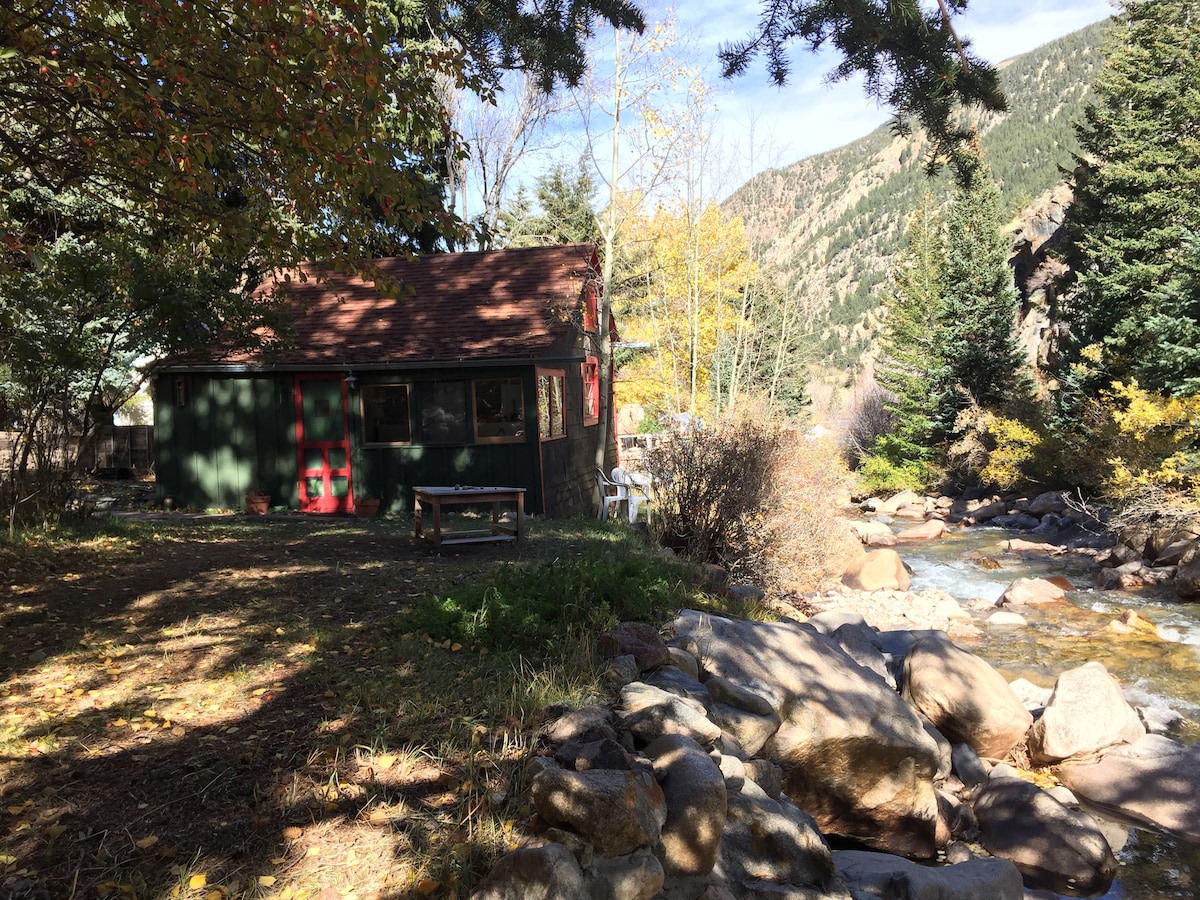 The Cricket- An amazing Tiny House!
The Cricket is a rustic historic cabin in a small neighborhood on Spring Street along side the rushing Clear Creek and nestled among an Aspen grove.
Tiny house hosted by Caroline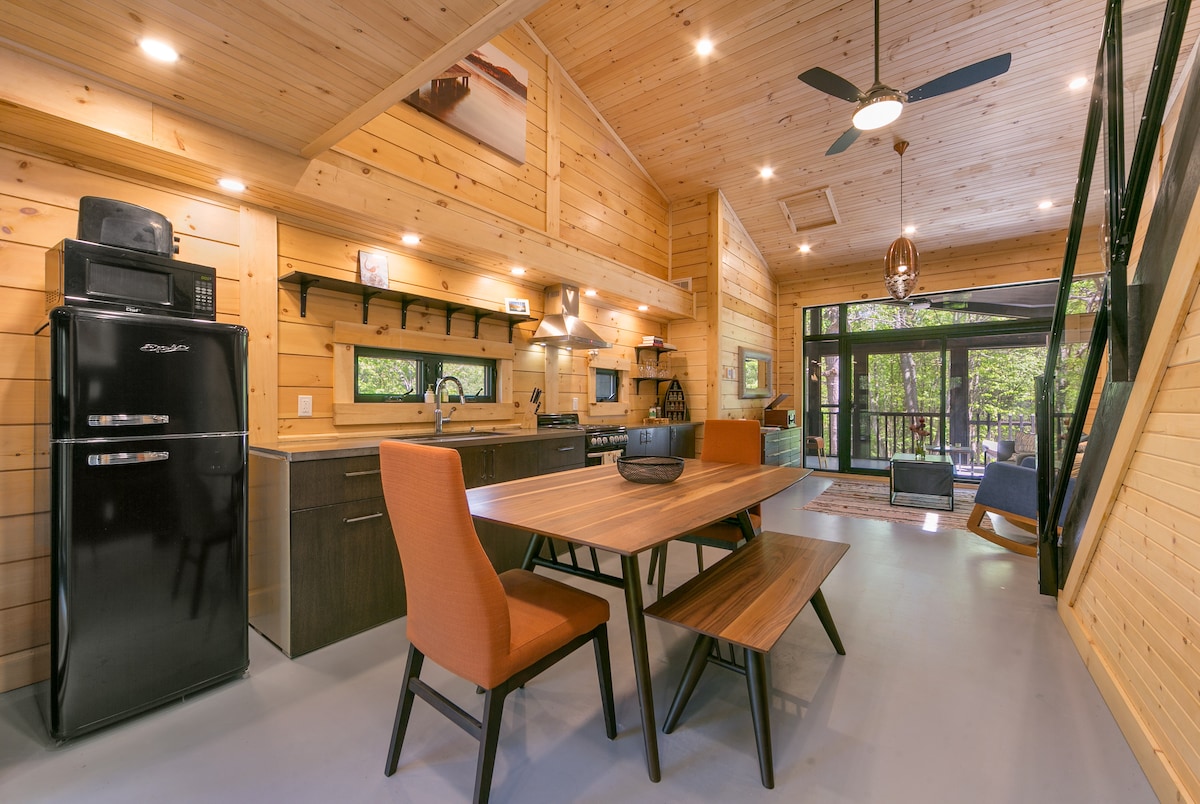 Muskoka's Luxury Tiny House
Serenely situated between Gravenhurst and Bracebridge, Tiny Haus has been custom built by an award winning architect to capture the beauty of the natural surroundings.
Love the Expedition and want to own it? It can be yours for $62,000, with financing available. Check out the listing on Tiny House Marketplace. Also visit Maverick Tiny Homes to learn more.