We love tiny houses that aren't afraid to embrace colors and that's exactly what this next tiny house did! This 312 square foot home is currently for sale in Chattanooga, TN for $59,900. The home's exterior is wrapped in stained D-lap siding with a roof-top deck and features spray foam insulation for superior climate control.
Inside, the home is open and spacious with a large living room featuring built-in seating and a modern fireplace set into the wall. The floors and most of the walls were kept a light neutral color but bold pops of color were strategically added throughout the home to keep it from being boring.
The kitchen is in the center of the home with tons of dark-stained cabinets and wood countertops. A 2 burner stove, dishwasher, microwave, and refrigerator are all included making it a fully-functional kitchen.
The Helm—2-Story Container Home close to Magnolia Market
Across from the kitchen is a split staircase leading up to the two lofts. Storage was added into every step with deep drawers and cubbies for clothing and personal items.
The lofts are both spacious and each has in-floor storage for off-season or bulky items. One of the lofts gives you access to the rooftop deck and has awesome built-in storage and a twin-sized platform for a mattress.
Back downstairs, the bathroom is in the back of the home with a wide opening and features a bright fuchsia wall with a washer and dryer machine and flushable toilet. Built-in cabinets are over the washer machine and custom sink vanity giving you plenty of storage space for toiletries and laundry items.
There's also a dual-headed shower with a stone floor and wood siding giving you a luxurious spa-like escape.
We think this tiny house is a great buy considering all of the amenities it offers! Can't you see yourself pulling this beauty down the road?
in an infinite green oasis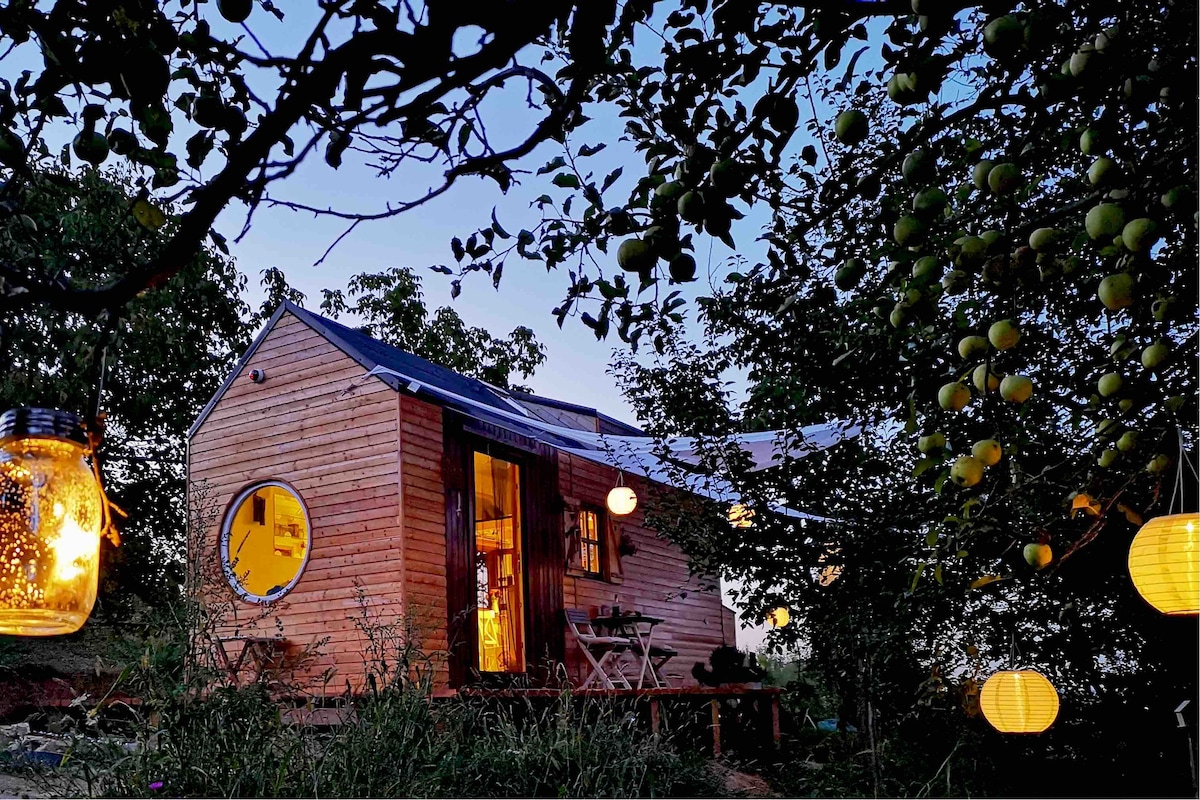 Tiny House on wheels
This is not just another bed you rest in overnight. It is a dazzling experience! Superhost Gabriella will amaze you with her cozy tiny house.
Entire house hosted by Robin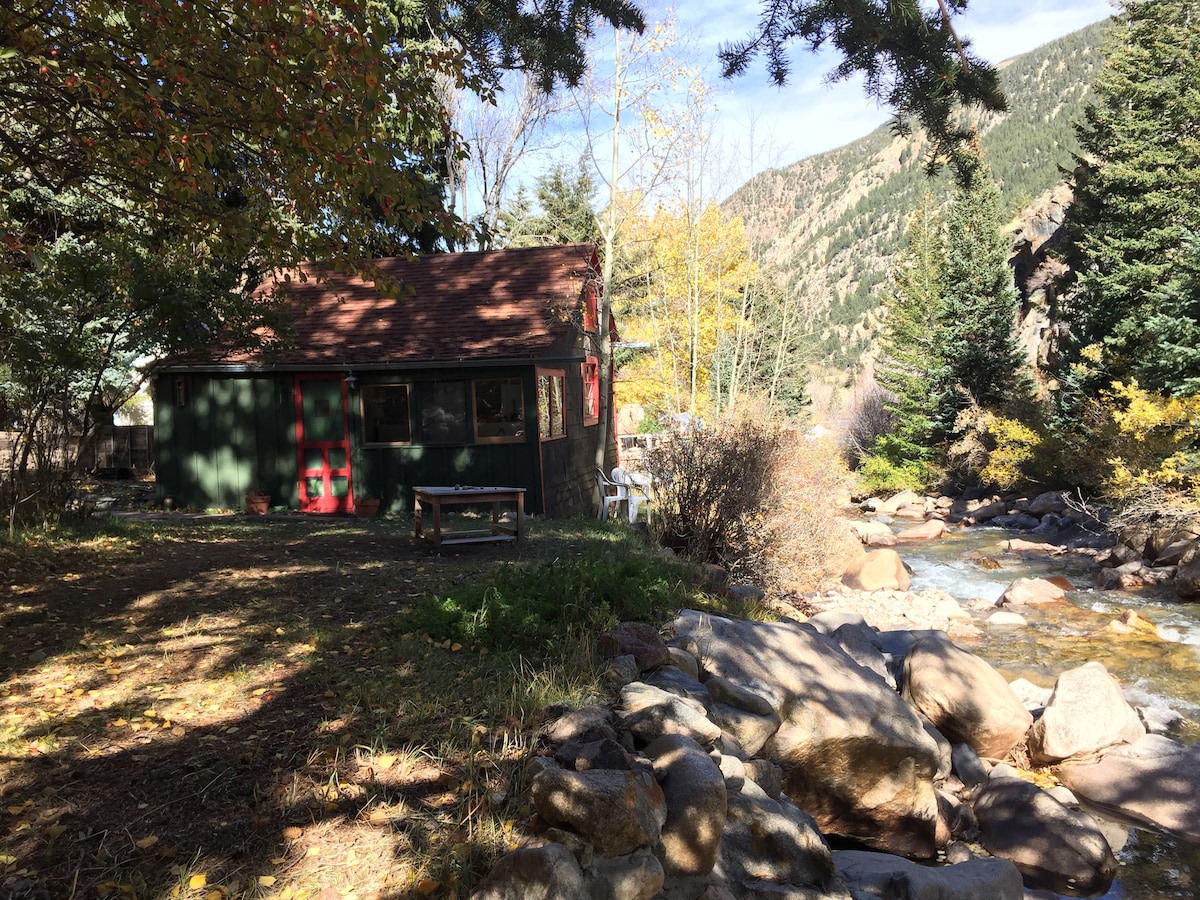 The Cricket- An amazing Tiny House!
The Cricket is a rustic historic cabin in a small neighborhood on Spring Street along side the rushing Clear Creek and nestled among an Aspen grove.
Tiny house hosted by Caroline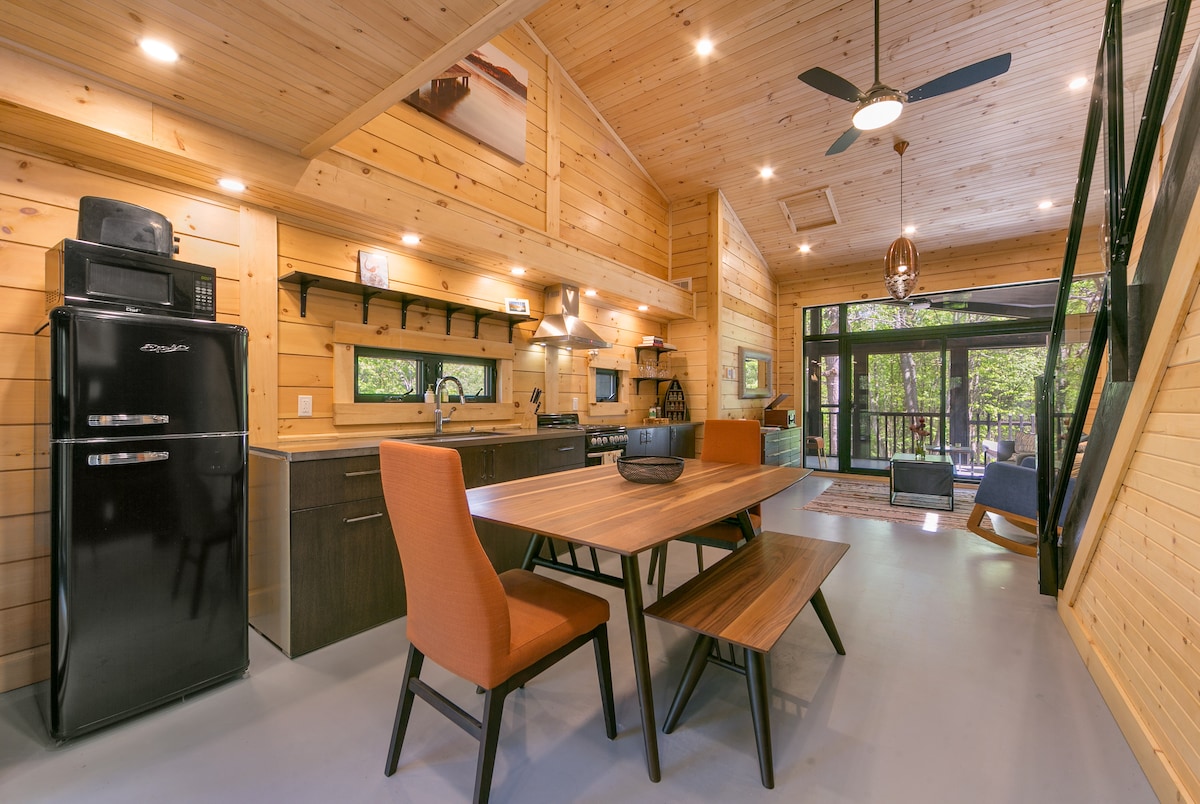 Muskoka's Luxury Tiny House
Serenely situated between Gravenhurst and Bracebridge, Tiny Haus has been custom built by an award winning architect to capture the beauty of the natural surroundings.
If you're interested in this home, check out the full listing at https://www.tinyhomebuilders.com/tiny-house-marketplace/details/upscale-tiny-house-loaded-with-amenities and make an offer!