The name "Sojourner" is an evocative one. Knowing that it is the name of a beautiful tiny house by Hauslein, it immediately conjures up an image of a life that you can take with you on the road where ever you go.
We often use the word "sojourn" as a synonym for "journey," but it specifically refers to a temporary stay somewhere—a break, rest, or holiday.
This really makes it the perfect name for a tiny house. As the company explains, " To 'sojourn' means to rest, abide, dwell or stay. It's about having a break from the journey, to be refreshed. There is an element of temporariness to it which we feel is captured by the relocatable nature of our homes. You can stop awhile, & move on in your own time, taking your resting place with you."

The house measures 8 m in length and provides a total of 28.5 square meters in which to live. For reference, that is around 306 square feet.

The siding is a combination of western red cedar feature cladding and slate matte finish colourbond cladding. These two materials provide a sharp contrast with one another and a strong emphasis to the shape of the home. They also create a look which is at once modern and rustic.

Another feature of the home which stands out when viewing the exterior is the large window in the back.

Here's a unique overhead perspective shot which helps you to envision the layout.

Warm, neutral colors dominate the interior. That stunning flooring is solid cypress pine, selected both for its appearance and its durability.

It looks at the same exact wood was used to make the countertops, ladder, and some of the other features of the home.
The Helm—2-Story Container Home close to Magnolia Market

Here's what the house looks like when it has been set up with a porch at the front door.

In the living room, there is enough space to put in a large sofa next to the kitchen. Customers have the option of choosing between a full-size three-seater couch or sofa bed.

Seated on this couch and gazing around at this living room, it'd be hard not to feel smug about life.
A flat-screen TV is located next to the door in the corner of the living room. I had initially envisioned for that large window would be in the rear of the house, but it is actually in the living room.

The "welcome" mat is a nice touch, but every inch of this home already welcomes in the resident.

An unusually angled shot through the front door does a great job of giving us a sense of the layout and exactly how much space is inside the tiny house. Often, it is surprising just how spacious tiny houses are once you step inside compared to how they seem from the exterior. In this photo, you get to see both at once.

There is such a nice, clean look to this home. Sometimes simple is the way to go.

The washing machine you see here is full-size, and even includes some handy storage right next to it.

A small table in the kitchen makes for a lovely spot to eat.

This home has so many big, beautiful windows!

Take another look at the kitchen table/counter. I am pretty sure judging from what I see underneath that it can be folded down when not in use. Either way, you can at least store the stools underneath it to keep the floor as open as possible.
Along with the table, the kitchen includes enough room for an oven, stove, dishwasher and 450 L fridge.

Here is the loft bedroom, which has a queen-size bed. It is nice to see curtains for the window, a feature which often is overlooked in tiny house lofts.

This is similar to the shot shared earlier, but you can see the porch better in this photo.

The starting price for the luxurious Sojourner tiny house is $99,000.
The builder has designed to other tiny homes as well, also called "Sojourner." There is the Little Sojourner, starting at $75,000:

There is also the Grand Sojourner, which starts at $110,000:
in an infinite green oasis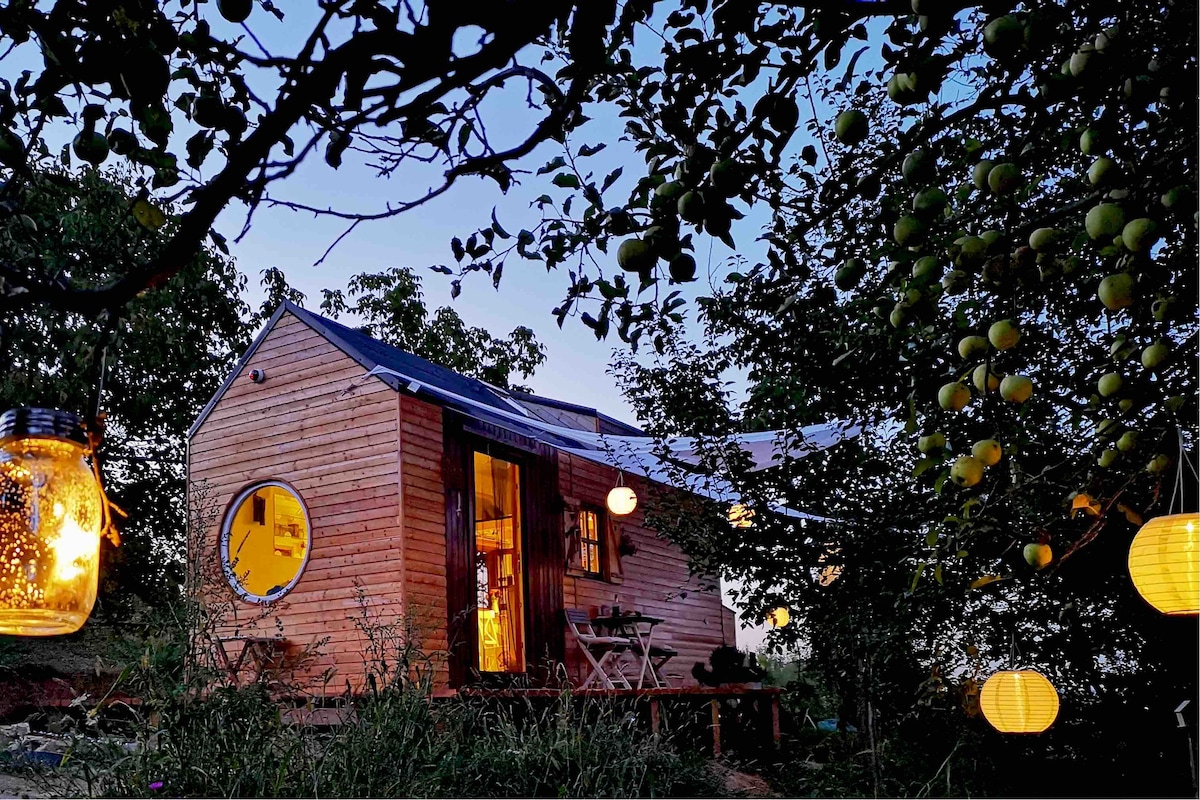 Tiny House on wheels
This is not just another bed you rest in overnight. It is a dazzling experience! Superhost Gabriella will amaze you with her cozy tiny house.
Entire house hosted by Robin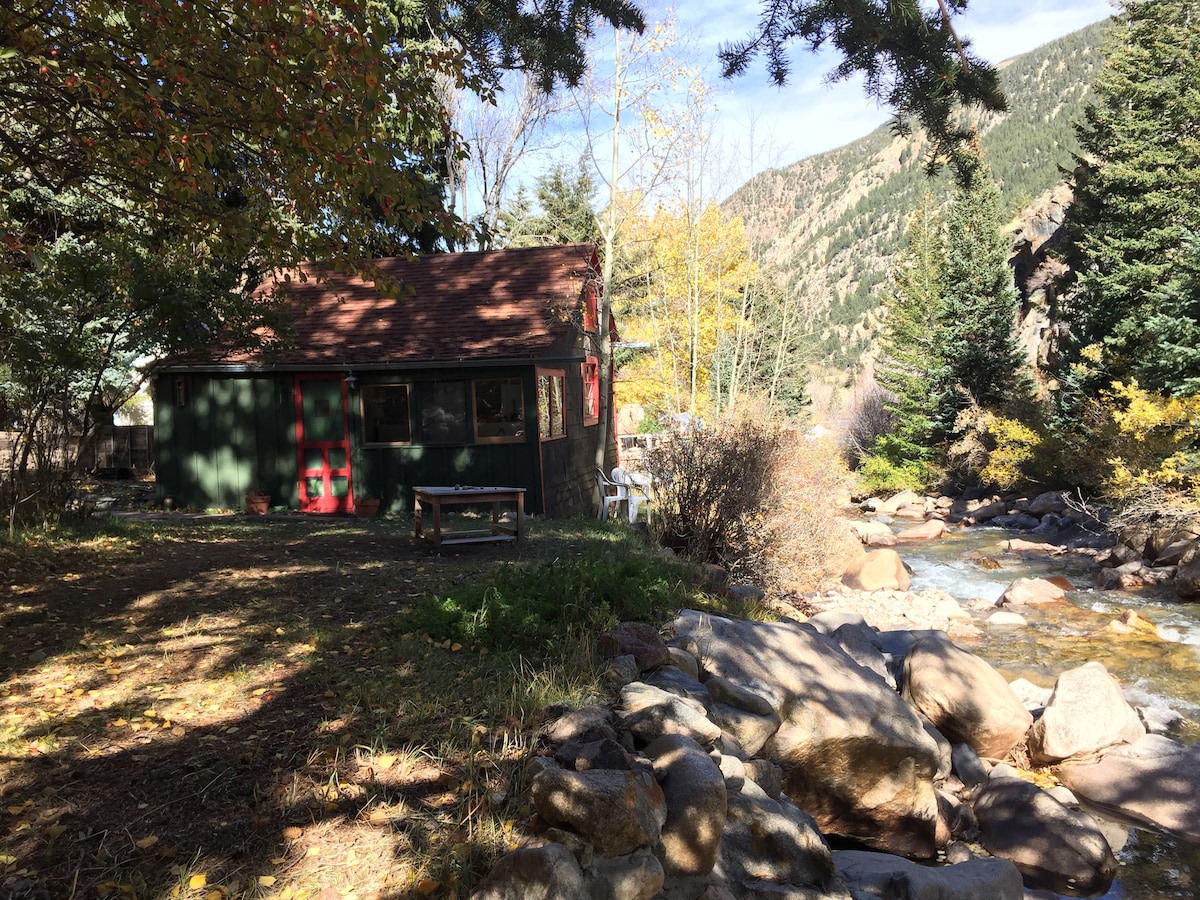 The Cricket- An amazing Tiny House!
The Cricket is a rustic historic cabin in a small neighborhood on Spring Street along side the rushing Clear Creek and nestled among an Aspen grove.
Tiny house hosted by Caroline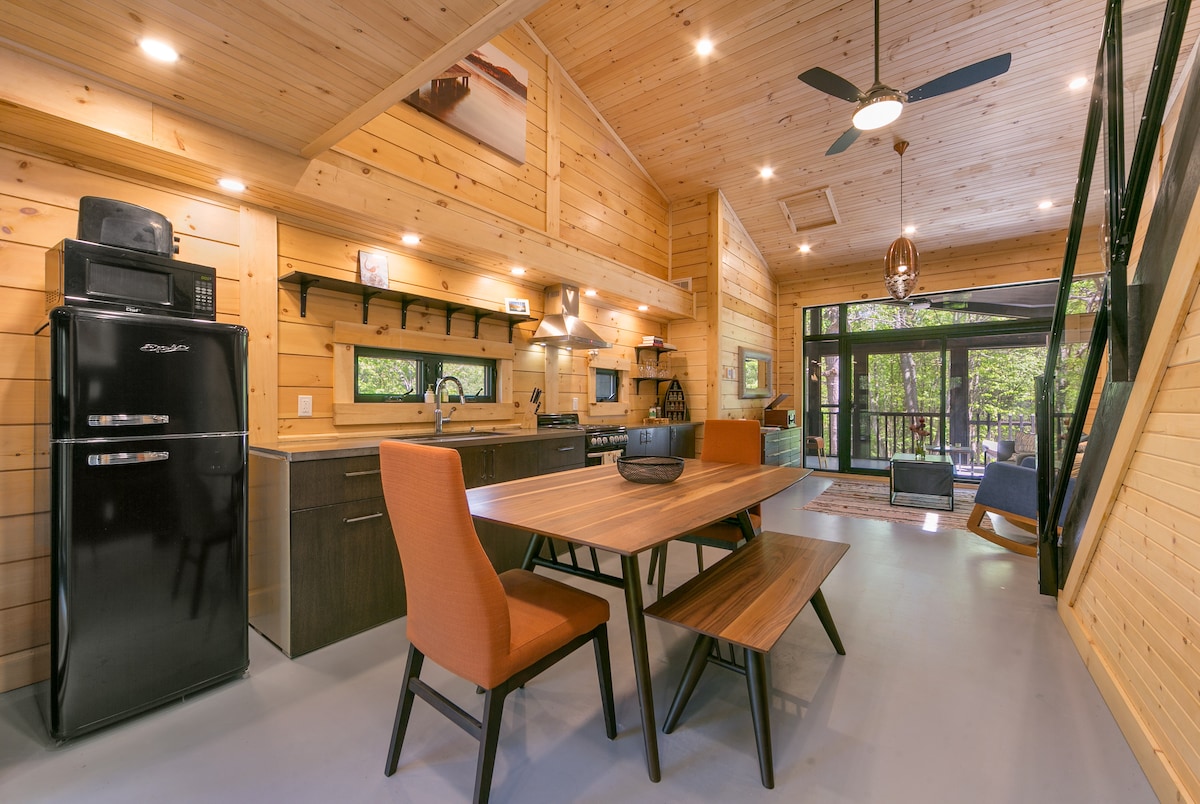 Muskoka's Luxury Tiny House
Serenely situated between Gravenhurst and Bracebridge, Tiny Haus has been custom built by an award winning architect to capture the beauty of the natural surroundings.

I would include separate articles for these two tiny houses, but the builder has not uploaded a full set of photos for either.
Alternately, if you like these houses, but you do not want a finished home, you have the option of purchasing a partial build at any of four different stages. That gives you the chance to finish your house yourself, and perhaps save some money along the way.
To learn more or buy the Sojourner, visit Hauslein.