Planning a trip to Vermont? Don't miss out on your chance to give tiny living a try at the Green Mountain Tiny House. This accommodation is located in Jamaica, Vermont.

The house measures 280 square feet and features a single bedroom, making it ideal for one or two guests. Its blue door welcomes you to step inside, kick off your shoes, and relax in utter seclusion.

With its pitched roof featuring beautiful open trusses, the interior of the tiny house is as spacious as can be. Skylights and windows on both walls illuminate the kitchen during the day, while overhead lights offer plenty of artificial illumination at night.

In the kitchen, you have access to a stove with an oven and four burners, along with an apartment-size fridge and freezer. Butcher block counters give you room to prepare your own meals, and a huge farmhouse sink makes it easy to clean up afterwards.

This is your opportunity to find out what it is like to cook in a tiny kitchen. So, it is ideal to book at least a few days to stay at the Green Mountain Tiny House. While it is tempting to eat out on vacation, you should challenge yourself to cook at least one meal. You will probably be surprised by how easy it is to cook in a small space.

You can relax for a cozy evening in front of the electric fireplace and enjoy watching the 43" Smart TV,.

A pair of French doors in the living room offer an incredible view of your wooded surroundings.

A farmhouse-style vessel sink can be found in the bathroom. The small, round mirror is a popular trend right now in tiny house bathroom decor.

There is a regular flush toilet between the vanity and shower.
The Helm—2-Story Container Home close to Magnolia Market

The shower features decorative tiles on the walls and ceiling along with shelves for your soap and shampoo.

The steps winding up to the loft all feature storage. While you probably will not avail yourself of that storage while you're on vacation, it does give you an impression of just how much storage space you could expect if you lived in a similar tiny house of your own.

The loft is among the most delightful features of the house. Thanks to generous windows, it is full of natural light. There is just enough room to either side of the bed for storage cabinets, perfect for stowing your personal items on vacation.

The ceiling in this part of the house isn't sharply pitched like it is in the living room and kitchen, but it is curved slightly upward in the middle to keep the space open.

The open trusses in the living room are a beautiful decorative embellishment.

This view gives you an idea where the loft is located with respect to the ground floor.

Looking down on the kitchen, you can see just how much counter space is available. This is a good opportunity to think about the layout that you want for your own tiny house if you decide to move into one on a permanent basis. Some people set aside more space for their kitchen, others less.

Autumn is a great time to book a stay at this tiny accommodation. The leaves are turning and you can see some spectacular foliage just outside the house.

Relax on the porch in front of the fire pit and enjoy the stunning scenery.

Looking at the exterior of the house, you can see the difference in the pitch of the roof between the living room and the loft. You can see how this design choice preserves more space in the loft.

Right now, I am wishing I could go on a trip to Vermont, just to stay in this tiny house.

The house is completely surrounded by greenery. If you are wondering what the other structure is you see in the background, that is another accommodation called the Apple Blossom Cottage.

Depending on the time of year that you book your stay, you may be able to see colorful wildflowers on the property. You might also encounter the resident chickens.

No matter what time of year you stay at the Green Mountain Tiny House, you will be surrounded by natural beauty.

There is wood provided to you for free to use in the fire pit.

Every little detail makes this tiny house an inviting and memorable destination for your vacation.
in an infinite green oasis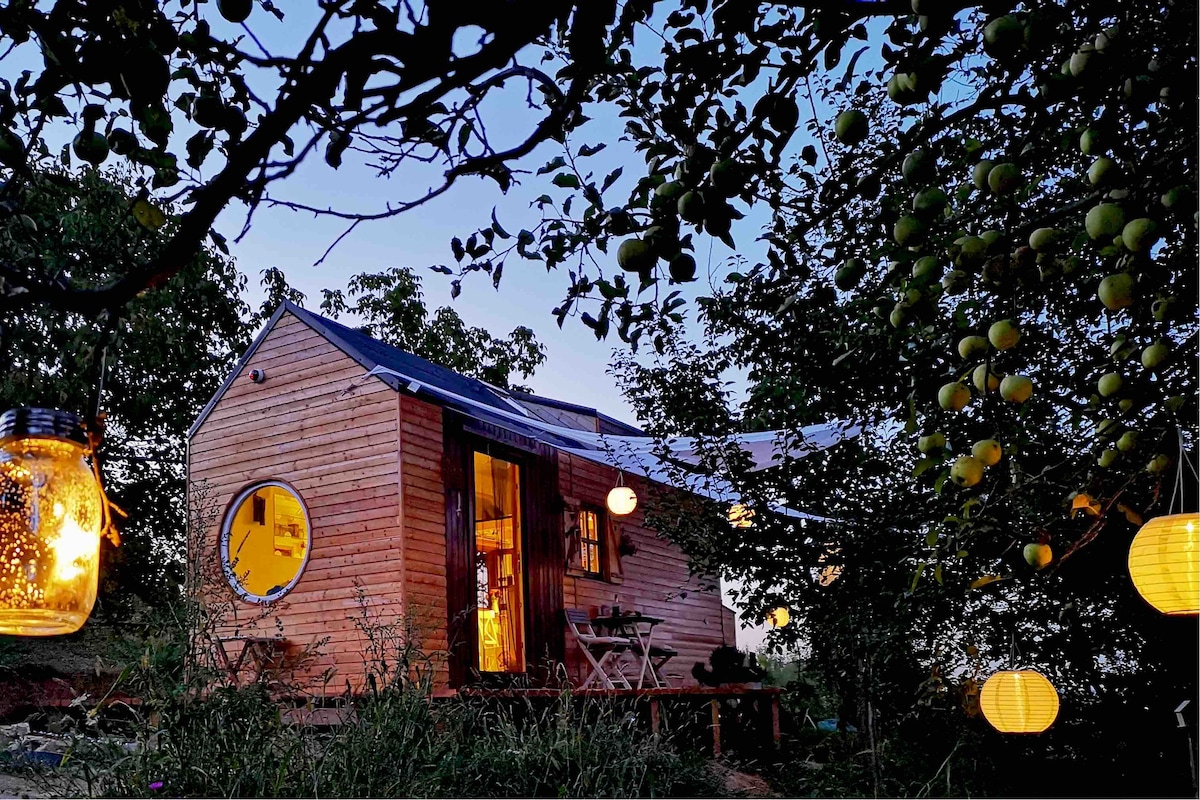 Tiny House on wheels
This is not just another bed you rest in overnight. It is a dazzling experience! Superhost Gabriella will amaze you with her cozy tiny house.
Entire house hosted by Robin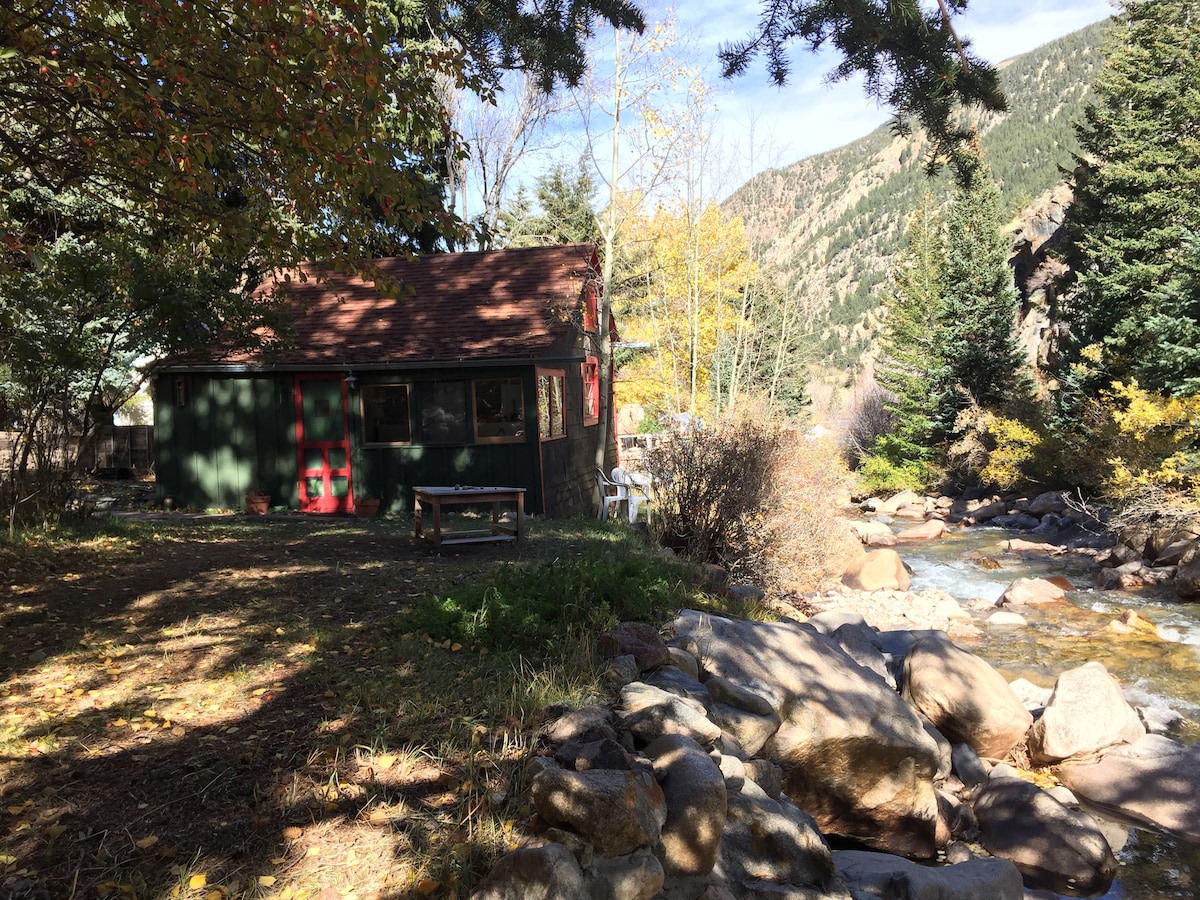 The Cricket- An amazing Tiny House!
The Cricket is a rustic historic cabin in a small neighborhood on Spring Street along side the rushing Clear Creek and nestled among an Aspen grove.
Tiny house hosted by Caroline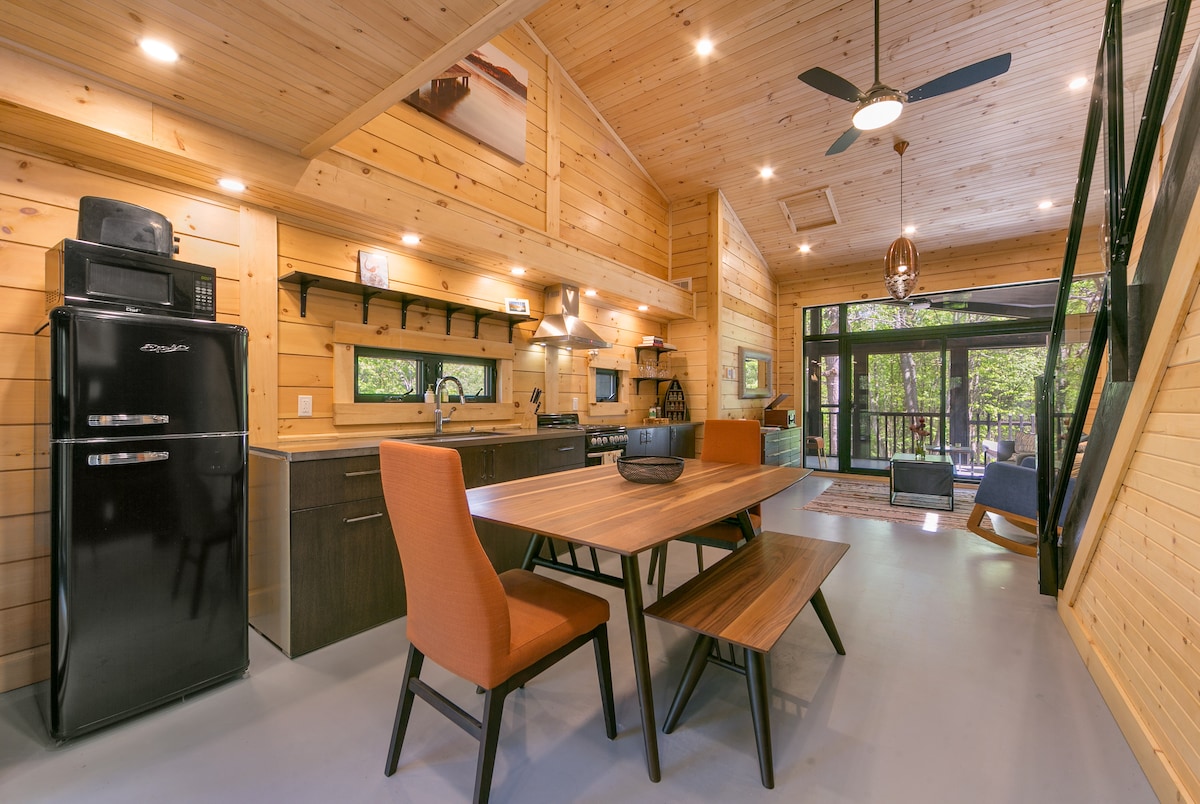 Muskoka's Luxury Tiny House
Serenely situated between Gravenhurst and Bracebridge, Tiny Haus has been custom built by an award winning architect to capture the beauty of the natural surroundings.

Describing the area where the tiny house is located, the AirBnB page says, "Jamaica is a wonderful artist community tucked away in the Green Mountains. Walk out the door for an adventure on the West River Trail. Jamaica State Park is only two miles from the tiny house."

Whether you love to ski, kayak, hike, or just relax surrounded by Vermont's beautiful wilderness, the Green Mountain Tiny House's location is ideal.
If you want to learn about the house's amenities in depth or book a reservation, you can do so at AirBnB.