The Universal is a beautiful modern styled tiny home rental in Central Florida that you are going to absolutely love visiting. A simple space is perfect for your needs while visiting the local attractions. Style and comfort come together to form a lovely home for short stays.
With simple lines and sharp colors on the inside and out, this is a stunning look at what a tiny home can become. Bright blue siding makes this pop against the lush green grounds, but step inside to beautiful white walls with black and red accents.
As you step through the front doors into this beautiful space, you will fall in love with the clean and simple lines of this tiny home. The design features walls lined with classic white subway tile, gray and black counters with lovely pops of red in accent curtains and shelving.
A functional kitchen space provides what is needed for simple meals. Large counter spaces, ample under counter cabinets, a simple flat top cooking surface, and floating shelves make it ideal for daily use as needed.
The living area is spacious with a comfortable fold out sofa in black that really pops against the white walls but provides tons of comfort for lounging or mealtime with a few TV trays for convenience.
I love the shelf below the TV and how it adds space for storing movies, books, or games. of course, knowing that there is a TV for streaming my favorite Neflix or Disney+ shows is a bonus for sure!
The Helm—2-Story Container Home close to Magnolia Market
As you look down the space past the kitchen counter, you'll see the small apartment sized refrigerator on the opposite end of the room. Perfect for storing your favorite drinks to enjoy after a long day at the beach or local amusement park.
The second sleeping loft is at the end of this space with a simple ladder leading upwards next to the barn door covering the bathroom space. I love how the design uses every nook and cranny to include storage, living space, and beauty without sacrificing the minimalist style.
Little accents like this lamp and red bowl bring the colors and artistic style together beautifully throughout the space. This isn't a fussy home at all, but one that is both inviting and clean. Just what you need to feel at home, without feeling cluttered.
One of my favorite parts of this tiny home is the ladder leading to the main loft space. A basic white staircase covers simple shelving including alternating black and red baskets. I love how this is perfect for storage but also adds a bit of beauty to the space.
Of course, you can't miss the short little table under the window. It's a nice little space for enjoying a meal, or can be used as a workspace should you have to work while on vacation.
The Universal has two sleeping lofts for your convenience. Both are open to the rest of the house, but offer plenty of privacy. The smaller space above the bathroom area holds a single bed. This is perfect for kids or teens.
The second sleeping loft above the beautiful set of stairs and storage cubes is larger and perfect for a couple.
Both sleeping lofts are surrounded by windows, have extra recessed lighting, and wood floors. Beautiful, comfortable, and perfect for a great night sleep after a long day out and about enjoying the Florida sun.
This view from the loft space shows the added lights along the ceiling, the beautiful tile work, and of course, the simple style of the black, white, and red throughout the space.
The bathroom is small but functional. A simple shower, toilet, and sink provide for your daily needs. The addition of a laundry station makes it handy for longer stays. I especially love the continued style in this space with the tiles. So pretty and easy to clean!
One of the best parts of the Universal is the beautiful view. This home has a small porch but you can relax in comfort just outside the lake shores in these little red lawn chairs.
in an infinite green oasis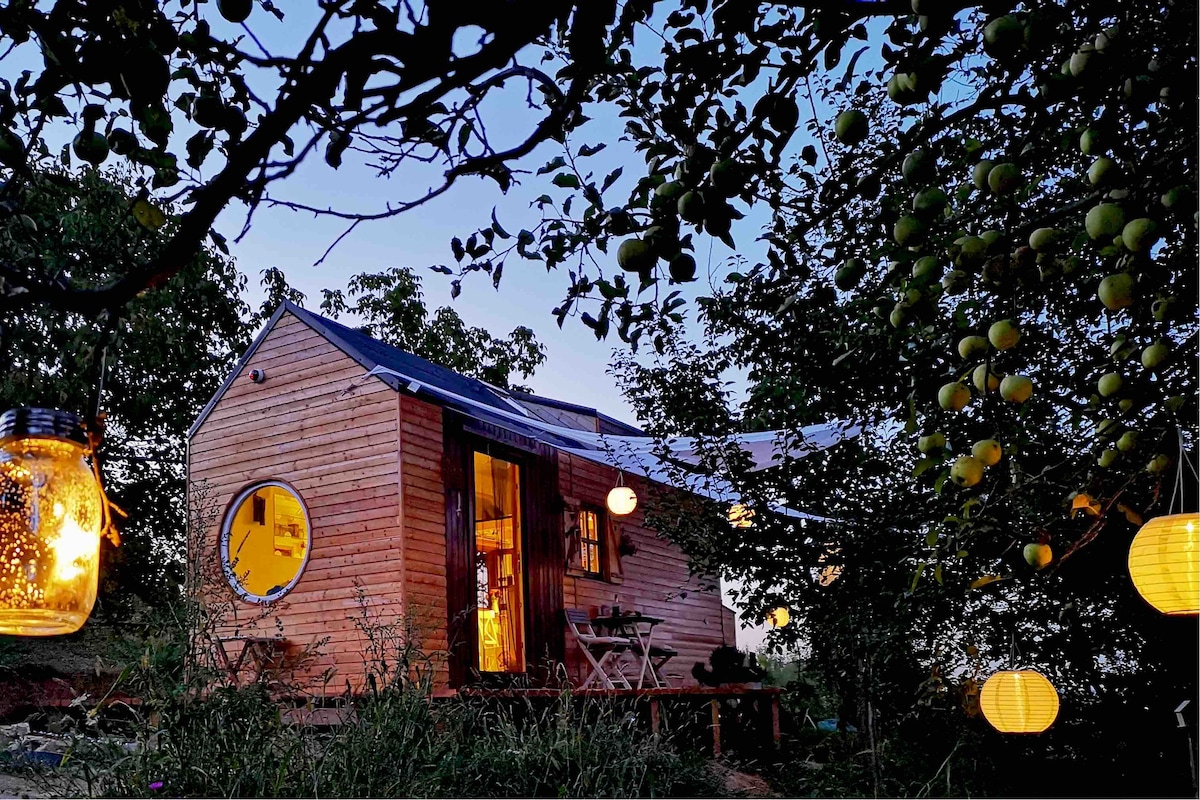 Tiny House on wheels
This is not just another bed you rest in overnight. It is a dazzling experience! Superhost Gabriella will amaze you with her cozy tiny house.
Entire house hosted by Robin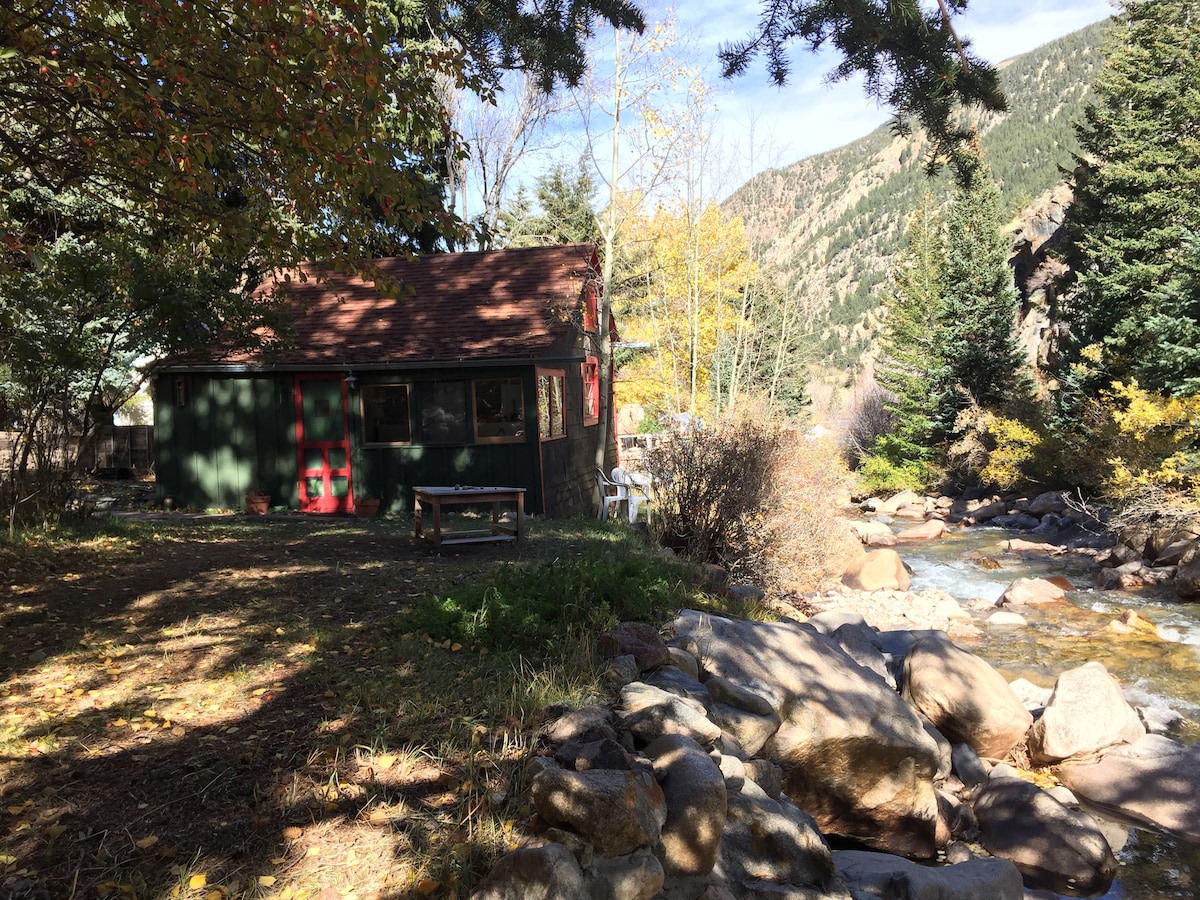 The Cricket- An amazing Tiny House!
The Cricket is a rustic historic cabin in a small neighborhood on Spring Street along side the rushing Clear Creek and nestled among an Aspen grove.
Tiny house hosted by Caroline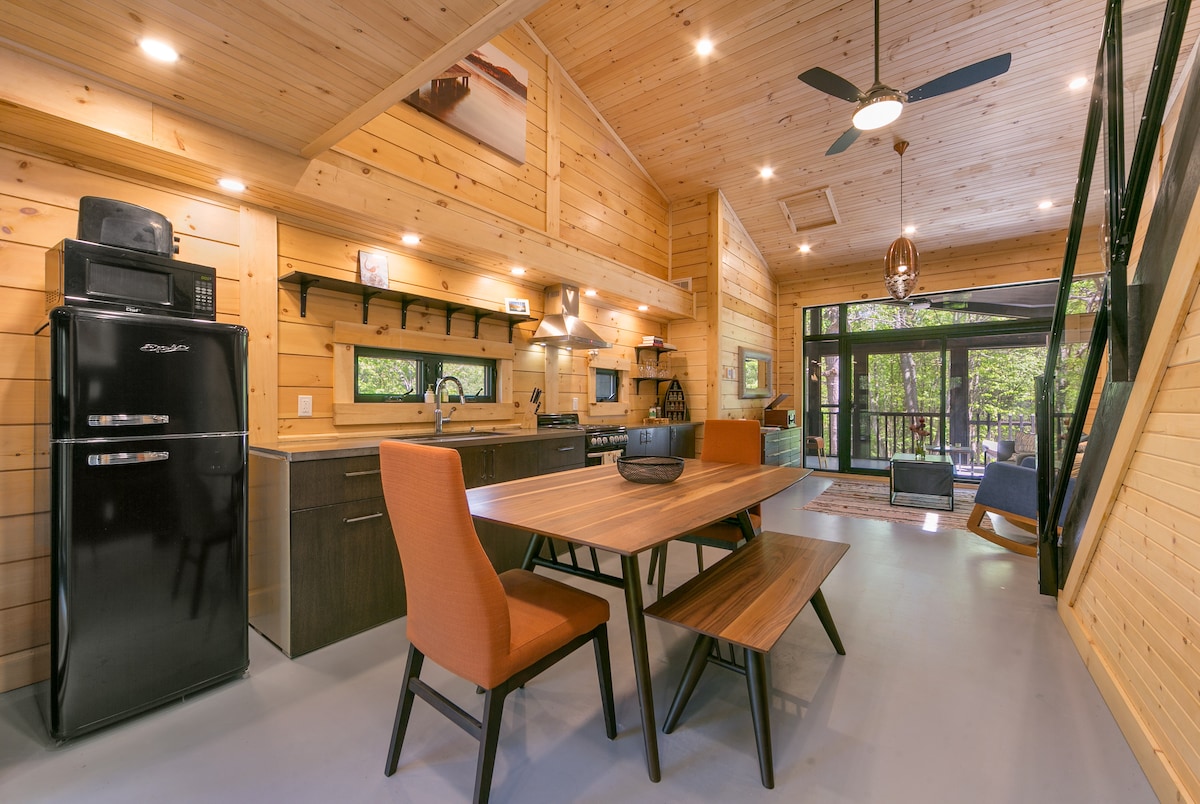 Muskoka's Luxury Tiny House
Serenely situated between Gravenhurst and Bracebridge, Tiny Haus has been custom built by an award winning architect to capture the beauty of the natural surroundings.
Whether you enjoy your morning coffee with the sunrise or a glass of wine with the sunset, this is a perfect additions to this tiny vacation home!
For more information about renting the Universal, check out the full listing at Orlando Lakefront Lodgify. Make sure you let them know that iTinyHouses.com sent you.
Looking for more great tiny home plans and ideas? Check out some of my favorites listed below!