When it comes to tiny houses, you're typically working with the same 8 foot wide limitations which often means you'll need a loft to squeeze in everything required for comfortable living. But that's not the case with the Aurora by ZeroSquared of Canada. This incredible tiny house can expand to a whopping 15'10" giving you a total of 337 square feet on one level for just under $75,000!
The home is not only innovative, it's also tough due to a custom rolling chassis and SIPs construction which give extra strength and insulation for all seasons.
Inside, it's mind-bending to see such a wide tiny house on wheels! When expanded, the home has the width of two rooms giving you tons of living space on the main floor. We've never seen anything like it!
The living room and bedroom are adjacent to one another and both have plenty of room to move around in as well as tons of natural light due to the windows which line both sides of the home.
The Helm—2-Story Container Home close to Magnolia Market
The home has ample storage placed throughout the home such as these large cabinets built around both walls of the living room. Gray floors connect all of the rooms throughout the home and look great with the gray shiplap walls and light gray cabinets.
The kitchen is spacious and fully equipped with full-sized appliances and tons of upper and lower cabinets. The space is even large enough to fit an extra-long dining table in the room with seating for up to six!
The bedroom is just off of the kitchen and it has another great innovative feature: a murphy bed. When folded, the wall can transform into a long office desk. Then when folded down, you have a comfy queen-sized bed!

The bathroom is on the back of the home and it has a large walk-in shower and custom sink vanity with a storage cabinet mounted above.
We're truly blown away by this home and its creative layout!
in an infinite green oasis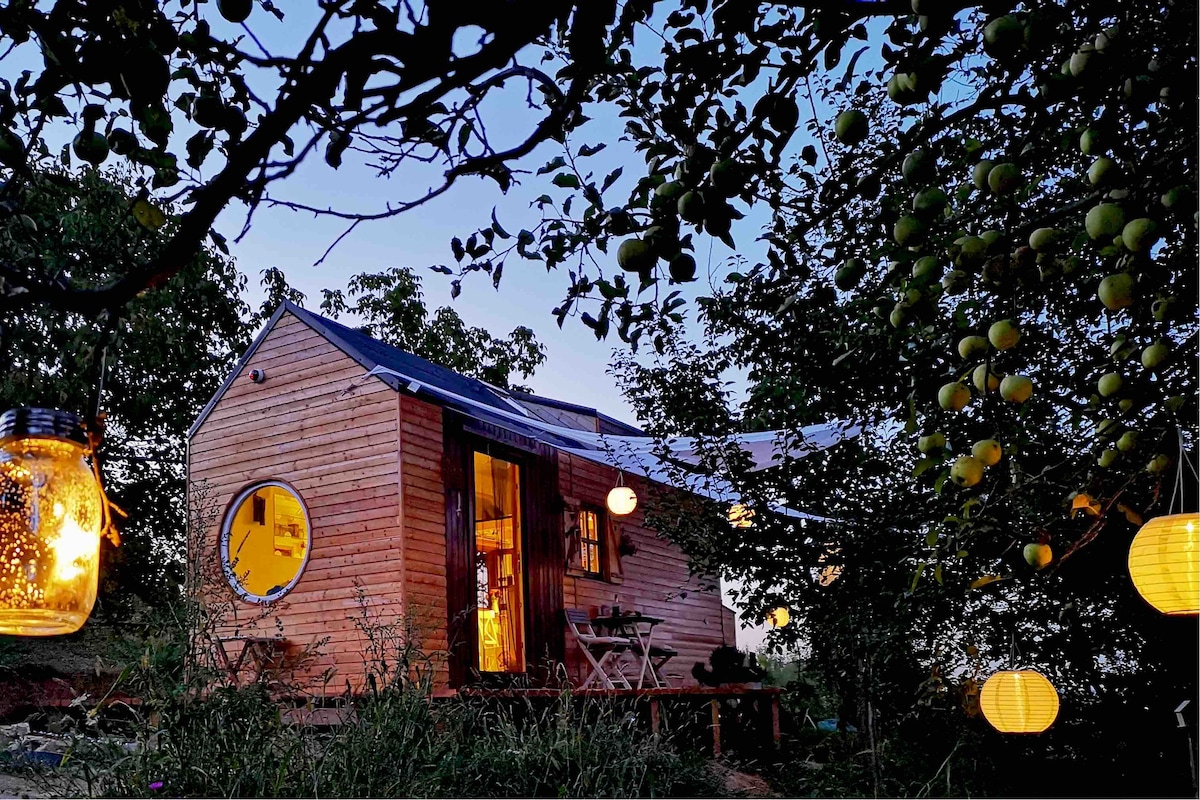 Tiny House on wheels
This is not just another bed you rest in overnight. It is a dazzling experience! Superhost Gabriella will amaze you with her cozy tiny house.
Entire house hosted by Robin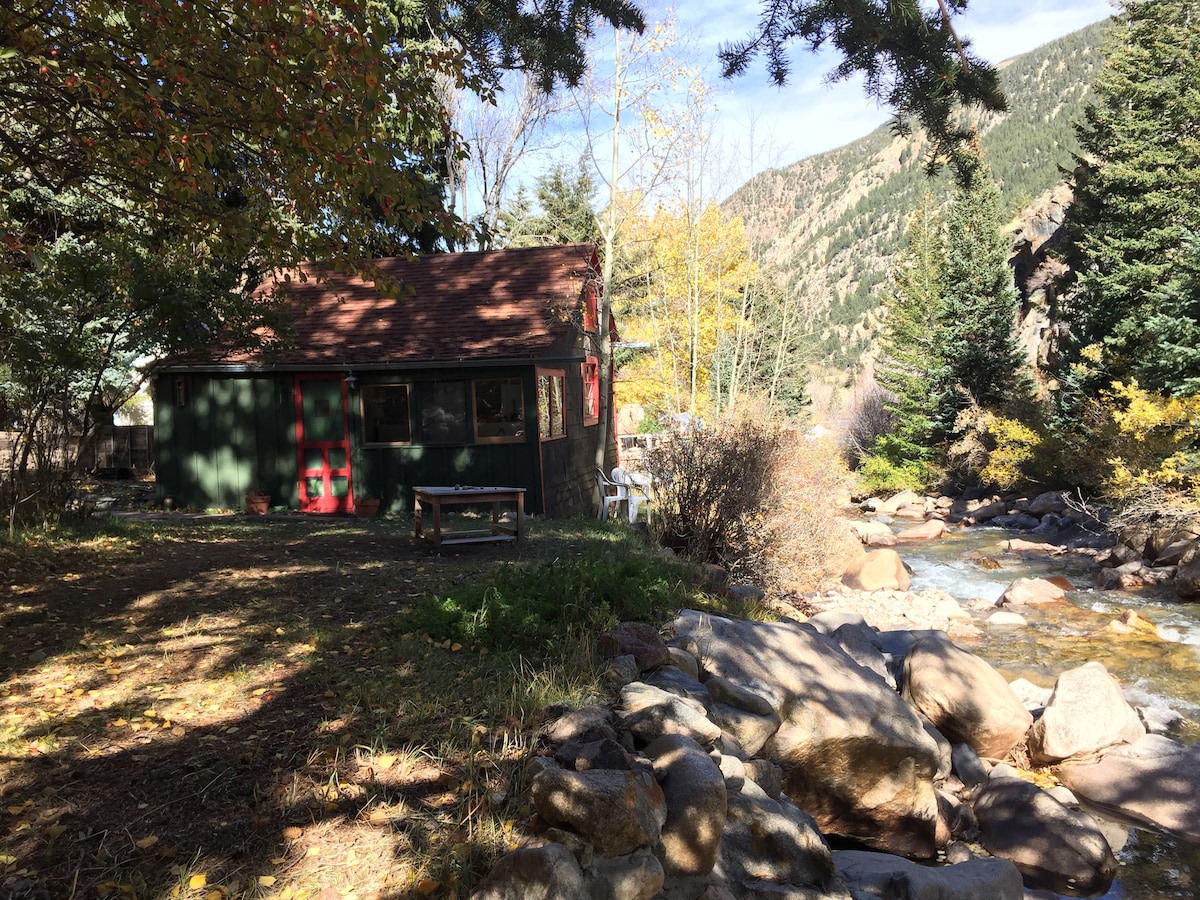 The Cricket- An amazing Tiny House!
The Cricket is a rustic historic cabin in a small neighborhood on Spring Street along side the rushing Clear Creek and nestled among an Aspen grove.
Tiny house hosted by Caroline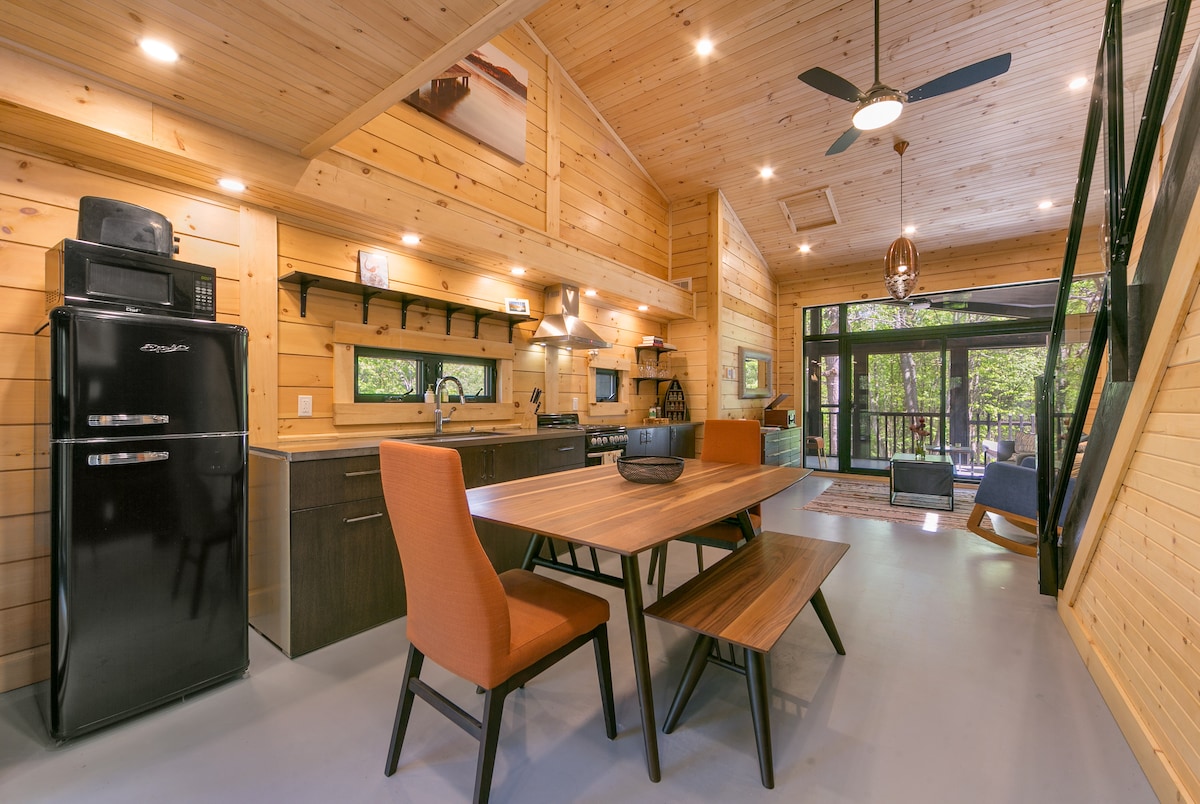 Muskoka's Luxury Tiny House
Serenely situated between Gravenhurst and Bracebridge, Tiny Haus has been custom built by an award winning architect to capture the beauty of the natural surroundings.
To learn more about the Aurora, go to http://zerosquared.ca/ and reserve your own!