Breck and Kelsey love to go rock climbing and so when they decided to make the move to a tiny house, they wanted to incorporate their passion while giving them a way to practice their skills anytime they want to. With the help of Tiny Heirloom company, they designed an incredible tiny house on wheels featuring tons of high-end finishes and, of course, a rock climbing wall.
The entire exterior of the home is covered in handholds that are able to be reconfigured to work on new skills. So now the Mississippi couple can go for a climb anytime they're in park!
Inside, the home is equally impressive with a giant glass garage door that can be lifted to open the house up to the outside. There's also plenty of custom touches like the light fixture that spreads the width of the garage door and the arched doorway leading to the bathroom.
Custom seating was also designed to give a large area for entertaining up to six guests. A loft is over the dining table and is set up as an office with a low desk and chair.
The Helm—2-Story Container Home close to Magnolia Market
The long benches in the dining area left up to reveal deep storage compartments perfect for the couple's climbing gear.
The kitchen is in the center of the home and features bright blue cabinets with a huge stainless steel farmhouse sink and commercial sprayer. There's also a stove and oven and a compact refrigerator across the room.
The bathroom is exquisite with a unique soaking tub that can also be used as a shower, toilet, and a custom sink vanity with a chevron backsplash and sleek medicine cabinet.
One of the coolest features of the bathroom is the doorway leading to it. A sliding arched door was custom made and the archway has shiny blue tiles set into it.
Above the bathroom is the sleeping loft with a queen-sized mattress and a long window to let fresh air in. Corner shelves were added for mementos and canned lighting brightens the room at night.
We love everything about this tiny house and can't believe how many features were packed into it while still leaving plenty of room for entertaining!
If you want to learn more about the talented team at Tiny Heirloom, visit their website at http://www.tinyheirloom.com and you can also follow them on social media for current updates at:
Facebook: https://www.facebook.com/tinyheirlooms/
in an infinite green oasis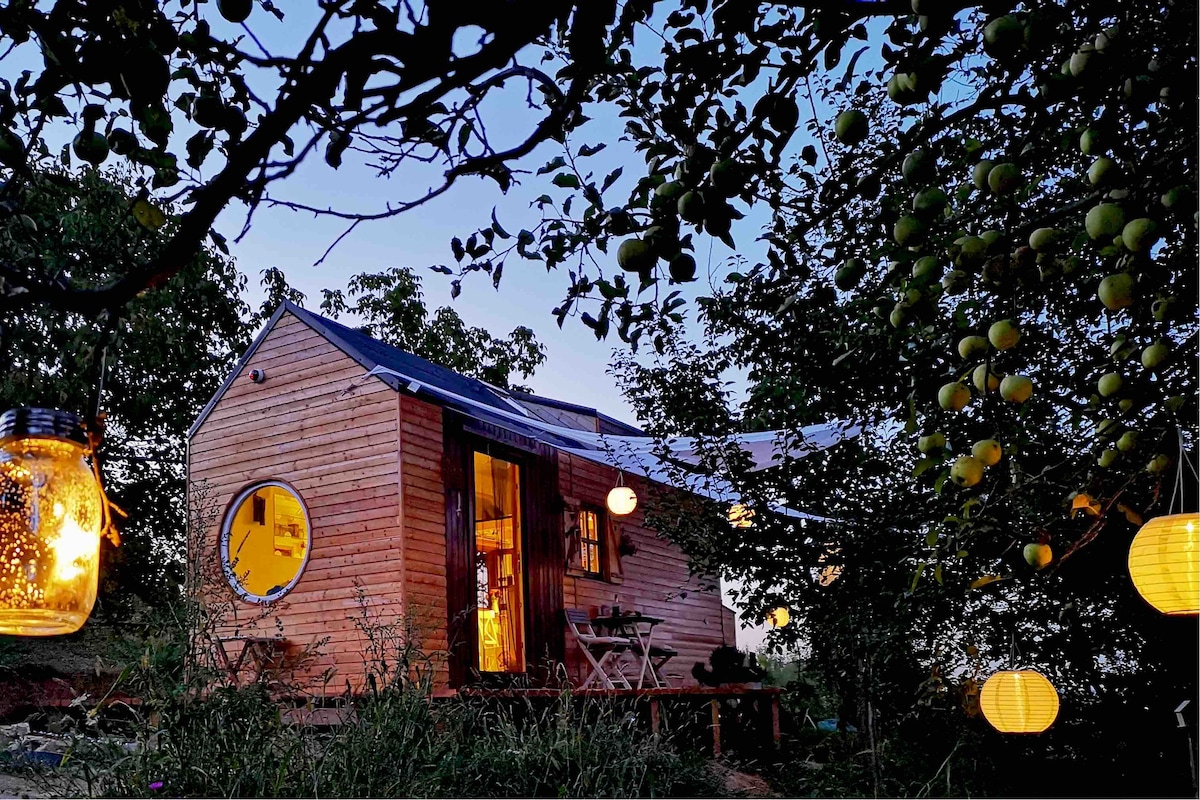 Tiny House on wheels
This is not just another bed you rest in overnight. It is a dazzling experience! Superhost Gabriella will amaze you with her cozy tiny house.
Entire house hosted by Robin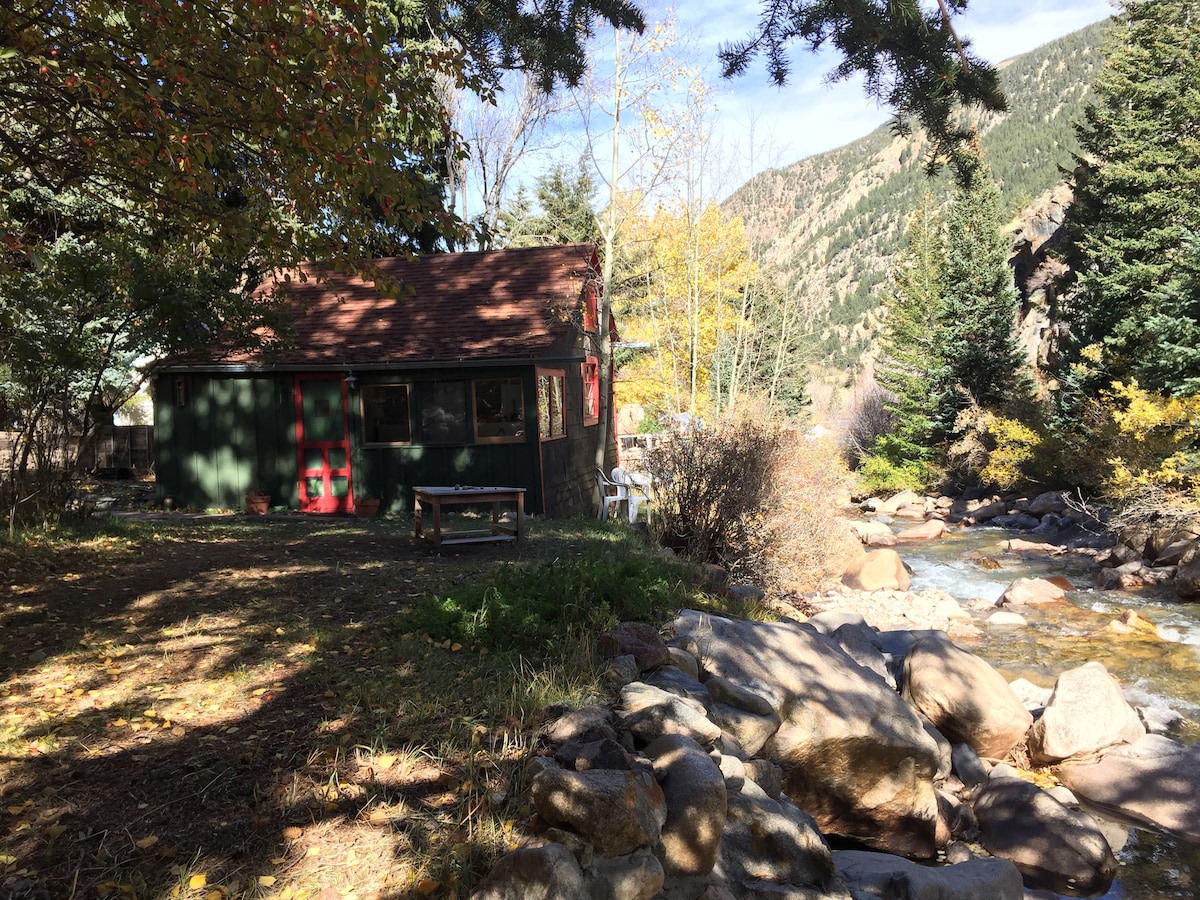 The Cricket- An amazing Tiny House!
The Cricket is a rustic historic cabin in a small neighborhood on Spring Street along side the rushing Clear Creek and nestled among an Aspen grove.
Tiny house hosted by Caroline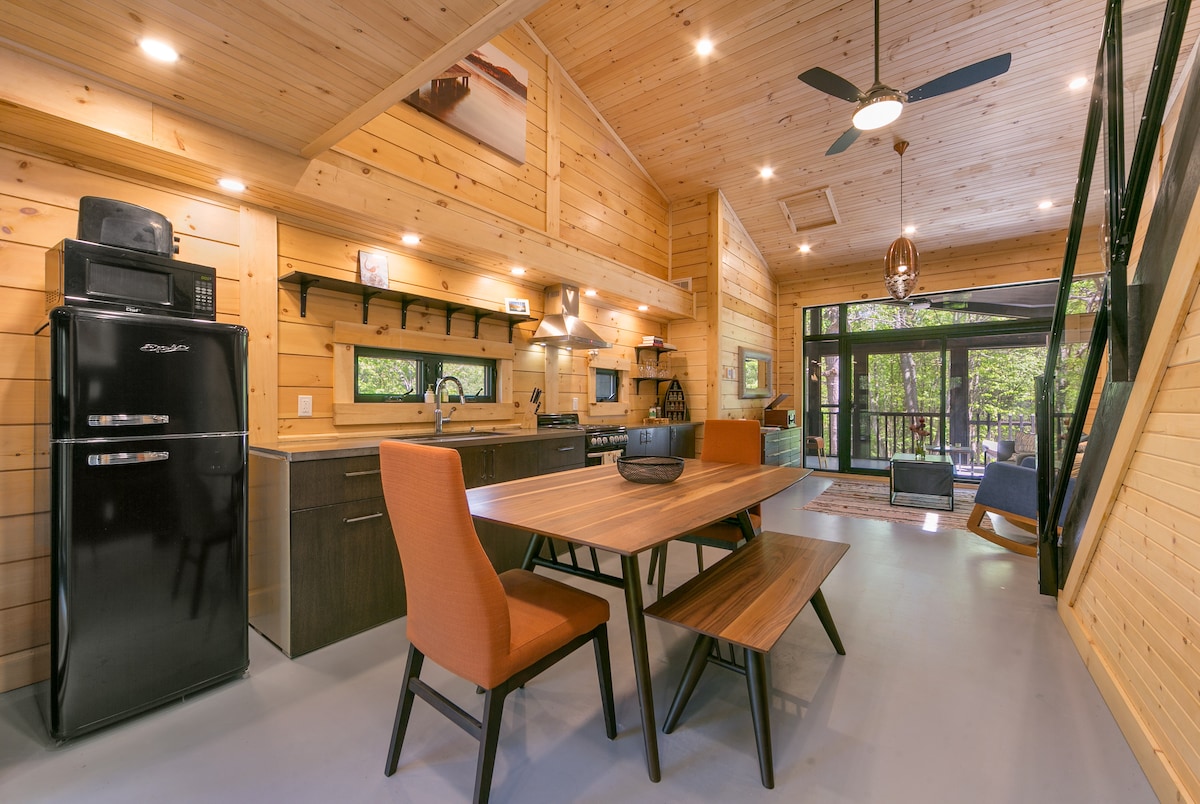 Muskoka's Luxury Tiny House
Serenely situated between Gravenhurst and Bracebridge, Tiny Haus has been custom built by an award winning architect to capture the beauty of the natural surroundings.
Instagram: https://www.instagram.com/tinyheirloom/
Twitter: https://twitter.com/TinyHeirloom
Pinterest: https://www.pinterest.com/theirloom/